Mara Yamauchi's shakshuka ready to eat (© Mara Yamauchi)
Spring has finally arrived here in London! Warmer temperatures, longer days and new life springing up everywhere makes training outdoors so much more enjoyable than during the long winter we've just had. And spring means Easter, which of course means eggs!
When I was training hard as an elite athlete, I often ate eggs for breakfast, mainly to increase the amount of protein I was consuming. When training for a marathon, your focus is mainly on carbohydrates, but protein is essential for recovering from hard training. I found a breakfast of eggs with carbohydrates was a good combination before a tough session.
This recipe is an example of something I discovered in Japan: savoury dishes that include runny or even raw eggs, which gradually cook from the heat of the food they are mixed in with. Japanese foods like katsudon (pork cutlets on rice with egg on top), sukiyaki (flavoured beef and vegetables that you dip into raw eggs), and even soft-boiled tempura eggs, are all examples of this.
At first, I was a bit hesitant about the thought of raw or runny eggs, but once I tried them, I was hooked. The texture and taste of semi-cooked eggs, mixed in with other hot, tasty ingredients, is a winning combination! After trying these foods, I realised that actually you can invent any kind of dish with this basic principle – hot, savoury ingredients which cook the eggs in their midst.
The dish below is an example of this. It is a version of shakshuka – a North African tomato and vegetable sauce in which you poach the eggs. My recipe is quite simple compared to some variations of this dish. If you have good quality, fresh ingredients, simple recipes are as delicious as the complicated ones! My thanks to my friend Jo Ronaldson who introduced me to it.
Ingredients
• Olive oil for frying
• 1 large red onion, finely chopped
• 3 cloves garlic, very finely chopped
• 1 small teaspoon ground cumin
• 1 small teaspoon smoked paprika
• 400g cherry tomatoes chopped, or 1 can tinned tomatoes
• 1 red pepper, finely chopped
• 100g bunch fresh coriander, stalks and leaves chopped separately
• 3 eggs
• salt & pepper
• 50g feta cheese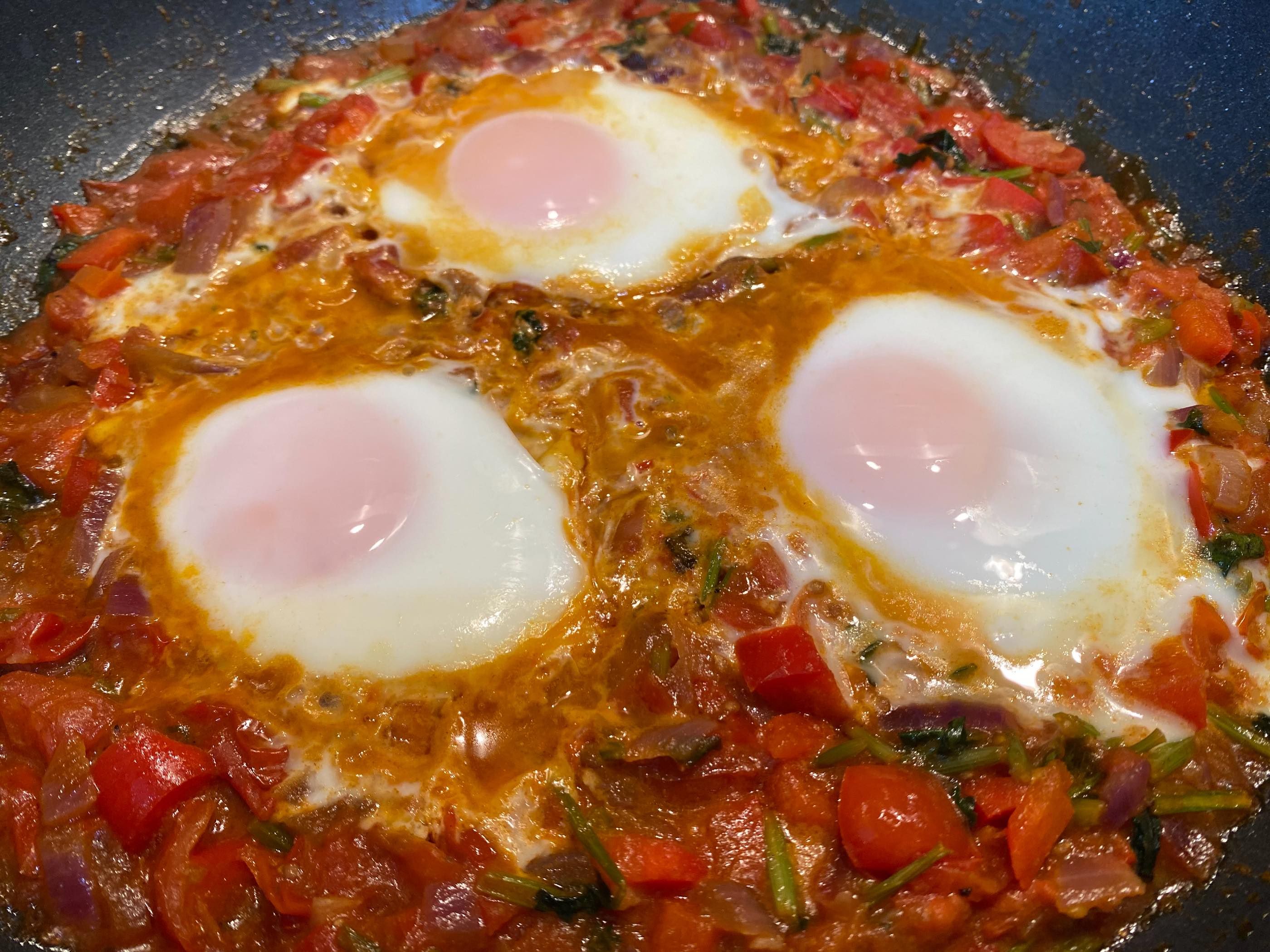 Method
• In a large frying pan, heat the olive oil then add the onions and fry for three minutes, stirring regularly. Add the garlic, cumin and paprika, and fry for two minutes. The spices should give off a fragrant aroma.
• Add the tomatoes, red pepper and coriander stalks. Continue frying until the vegetables have softened and you have a rich sauce – this could take 10 minutes. Add most of the coriander leaves, stir well, and add salt and pepper to taste.
• Turn the heat down low and make three indentations in the surface of the sauce with the back of a large spoon. Carefully crack one egg into each of the indentations. Place a lid on to the pan and heat the mixture on a low to medium heat for five minutes. Check on the eggs – I like them with the whites solid but the yolks still runny. Continue cooking if you prefer the eggs to be hard throughout.
• Once the eggs are as you like them, transfer with a large spoon one egg per person with some sauce to a plate. Crumble a little feta over each plate, add the remaining coriander leaves as a garnish, and serve immediately with some crusty bread.
• The sauce in this dish keeps well but the eggs will harden as they will continue to cook gently in the warm sauce. If you like your eggs runny, make sure you eat this dish immediately.
Mara Yamauchi for Be Active