Derartu Tulu and Genzebe Dibaba, Eilish McColgan and Liz McColgan, and Katrin Dorre-Heinig and Katharina Steinruck (© Getty Images)
Athletics is often a family affair, with parents, grandparents and siblings frequently forming part of an athlete's support group.
But sometimes that sporting talent is in the genes and in Olympic year, to mark the International Day of Families, we take a look at some of the familial connections between athletes who competed at the 1991 World Athletics Championships in Tokyo and those who are contenders for this year's Games in the Japanese capital.

Leroy Burrell – father of Cameron Burrell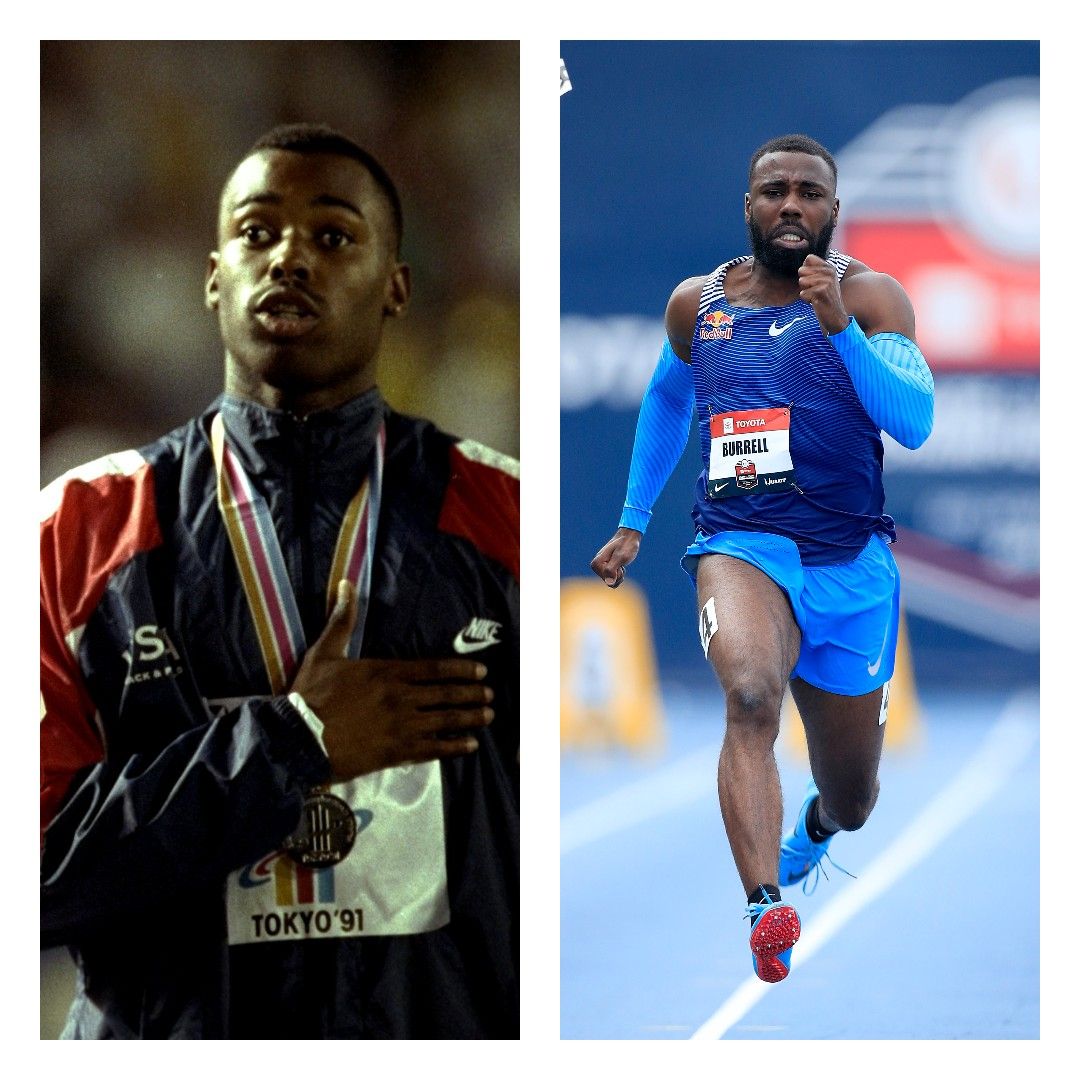 Former world 100m record-holder Leroy Burrell secured silver at the 1991 World Athletics Championships, finishing second to his fellow American Carl Lewis who improved Burrell's world record to 9.86, while Burrell also dipped under his old record with 9.88. He would go on to reclaim the world record by running 9.85 in July 1994. Burrell also formed part of the USA's world record-breaking 4x100m team alongside Lewis in Tokyo.
Cameron Burrell has followed in his father's fast footsteps, also becoming a sub-10 100m sprinter in 2017. Racing for the University of Houston, where his father is head coach, Cameron won the 2018 NCAA 100m title and also formed part of winning 4x100m teams in 2017 and 2018. His PB stands at 9.93 from 2017, with the 26-year-old having clocked a wind-assisted 10.01 (2.8m/s) so far this year.

Krystyna Danilczyk – mother of Daria Zabawska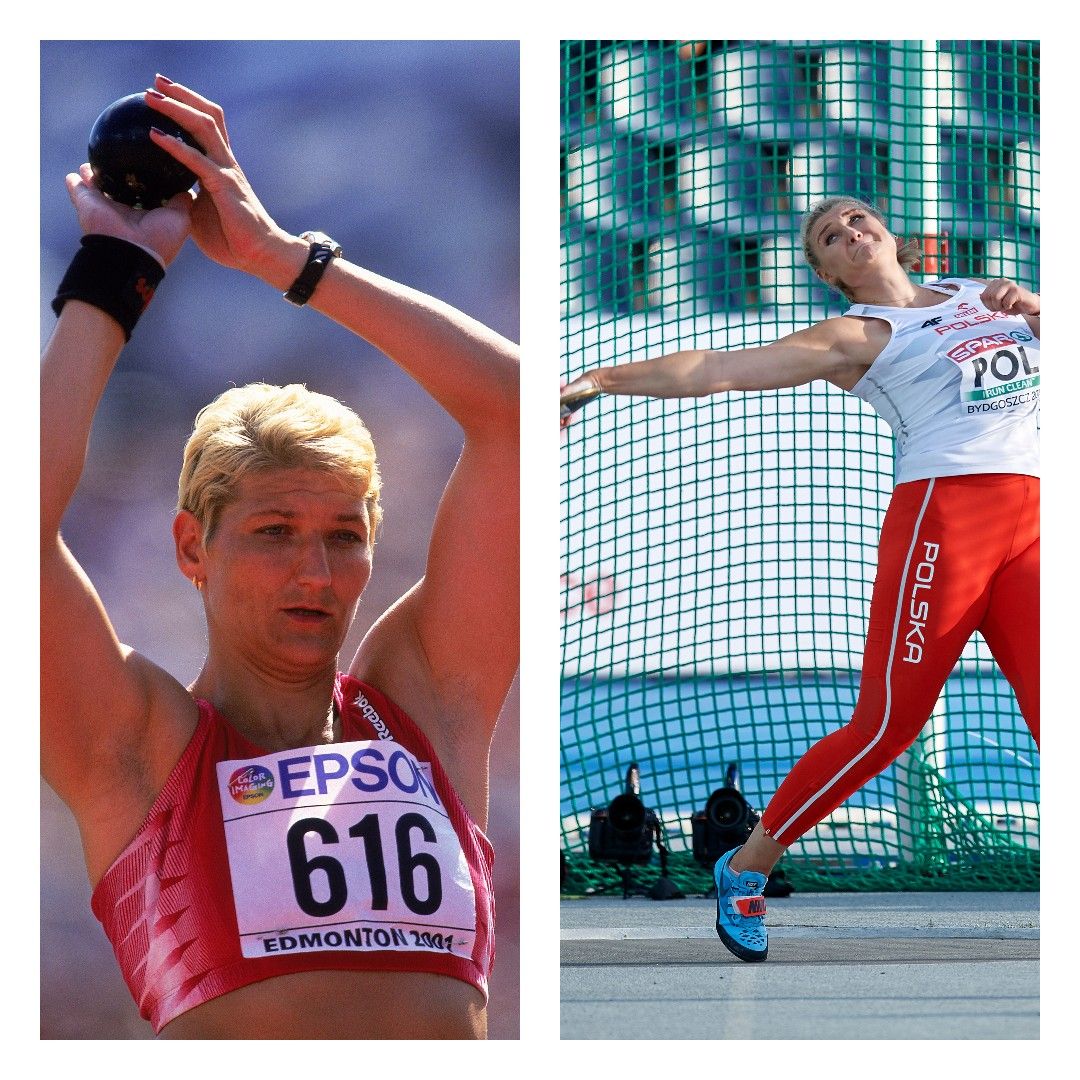 Polish shot putter Krystyna Danilczyk placed 12th on her major championships debut in Tokyo, throwing 17.59m after a mark of 18.15m in the qualifying round. Later in her career she claimed world indoor silver in Maebashi in 1999 and finished fifth at both the 2000 and 2004 Olympics. Her 1999 19.26m throw remains the Polish indoor record.
Danilczyk's throws pedigree has passed on to her daughter, Daria Zabawska, a European U23 Championships silver medallist from Bydgoszcz in 2017. Zabawska is coached by her father Przemysław Zabawski, also a former shot putter, who guided Danilczyk during her career. With a best of 62.36m set in 2019, Zabawska – who finished sixth at the recent European Throwing Cup – will have her eye on the Olympic qualification mark of 63.50m.

Katrin Dorre-Heinig – mother of Katharina Steinruck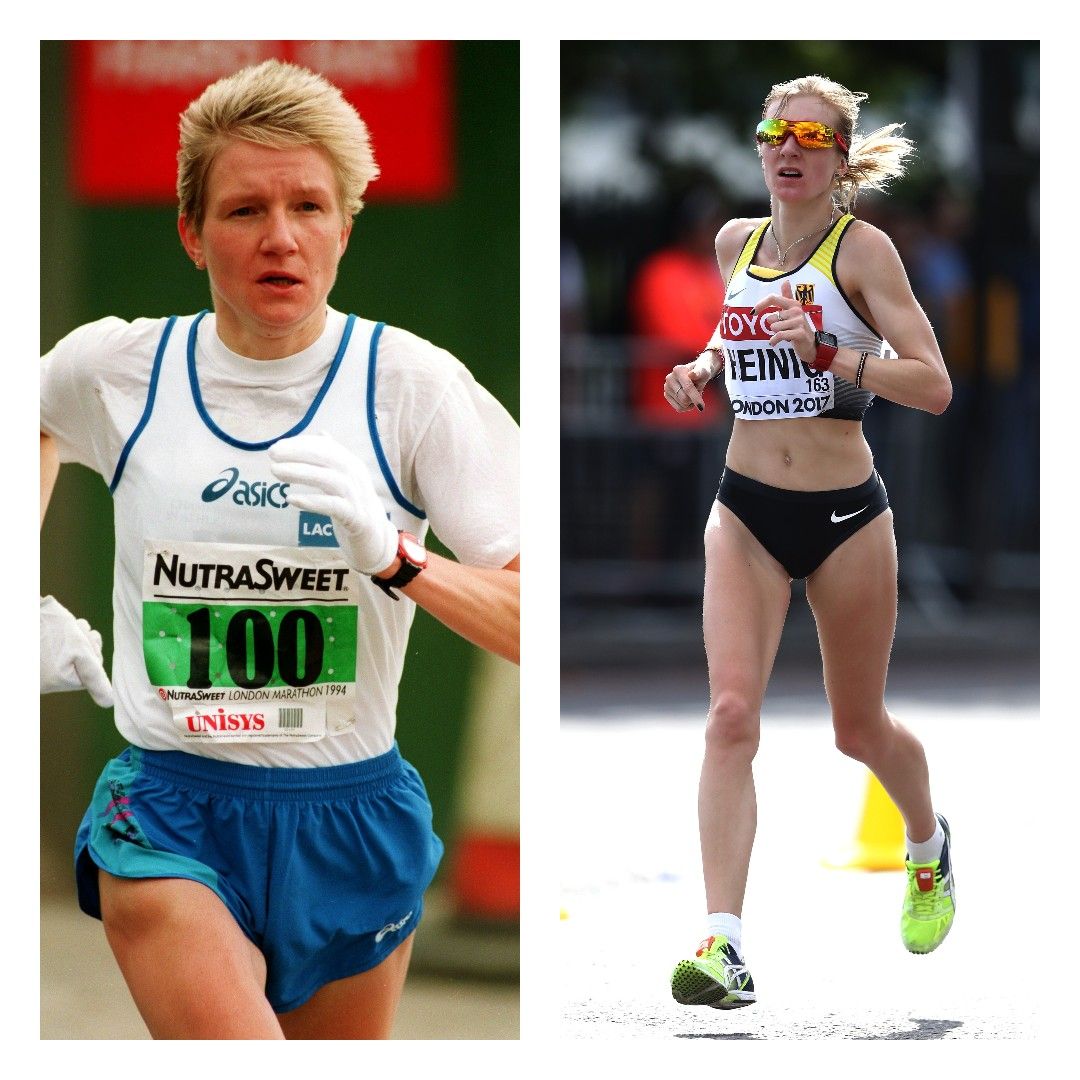 Three years after her Olympic marathon bronze in Seoul, Germany's Katrin Dorre-Heinig achieved a medal of the same colour in Tokyo, clocking 2:30:10 to finish behind Poland's Wanda Panfil and Japan's Sachiko Yamashita. Her impressive career also included three wins each at the London and Tokyo marathons as well as four Osaka Marathon victories.
Her daughter Katharina Steinruck did not originally have ambitions to follow in her mother's footsteps. "When we spoke about running and I was asked if I wanted to do this as well, one day I replied: 'Forget about this - never, it is much too tough!'" she said in 2017. But she started to realise her talent at the age of 11 or 12 and in 2016 she ran 2:28:34 for a breakthrough fifth-place performance at the Berlin Marathon. Currently in the form of her life, Steinruck came close to her mother's PB of 2:24:35 when running 2:25:59 in Enschede in April and also set a half marathon personal best of 1:10:43 to finish fourth at the Olympic test event in Sapporo on 5 May.

Edrick Floreal – father of EJ Floreal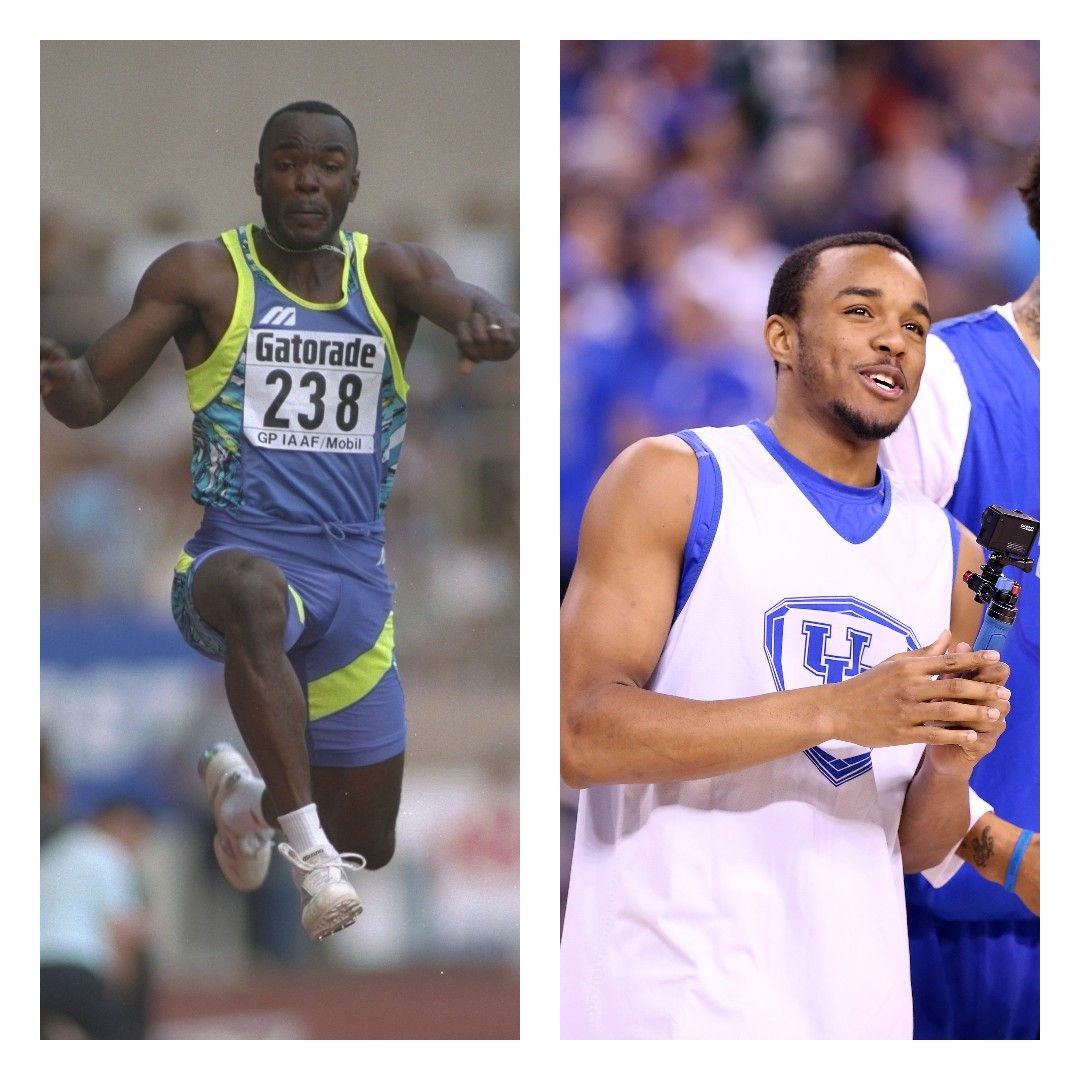 The Canadian long jump and triple jump record-holder with respective marks of 8.20m and 17.29m, Edrick Floreal competed in both events at the 1991 World Championships. Now head coach at the University of Texas, his own US collegiate career included multiple NCAA wins and he went on to compete at two Olympic Games and claim Commonwealth triple jump bronze in 1990.
His son, EJ, started out in basketball until he could deny his track talent no longer. He now has a 200m PB of 20.29, set earlier this year, and had been named on Canada's squad for the World Athletics Relays Silesia 21 before the team withdrew. The Canadian sprints team for Tokyo will be a tough one to make but EJ will be looking to emulate both his parents – his mother being the USA's 1992 Olympic 100m hurdles silver medallist LaVonna Martin-Floreal – by competing at a major championships.

Rodion Gataullin – father of Aksana Gataullina
After winning world pole vault bronze in 1987 and Olympic silver in 1988 for the Soviet Union, Rodion Gataullin won the world indoor title the following year, European gold in 1990 and then finished fourth at the World Championships in Tokyo in 1991, where he cleared a best of 5.85m in a contest won by Sergey Bubka with 5.95m. The first athlete to ever clear 6.00m indoors and only the second after Bubka to break the barrier outdoors, Gataullin went on to win further world indoor and European titles for Russia in 1993 and 1994 respectively.
His daughter Aksana Gataullina followed him into the pole vault and recently had her application to compete in international competition as a neutral athlete approved, meaning she will now be targeting Tokyo after achieving the qualifying mark of 4.70m indoors in February. Gataullina won the 2019 European U20 title in Boras.

Liz McColgan – mother of Eilish McColgan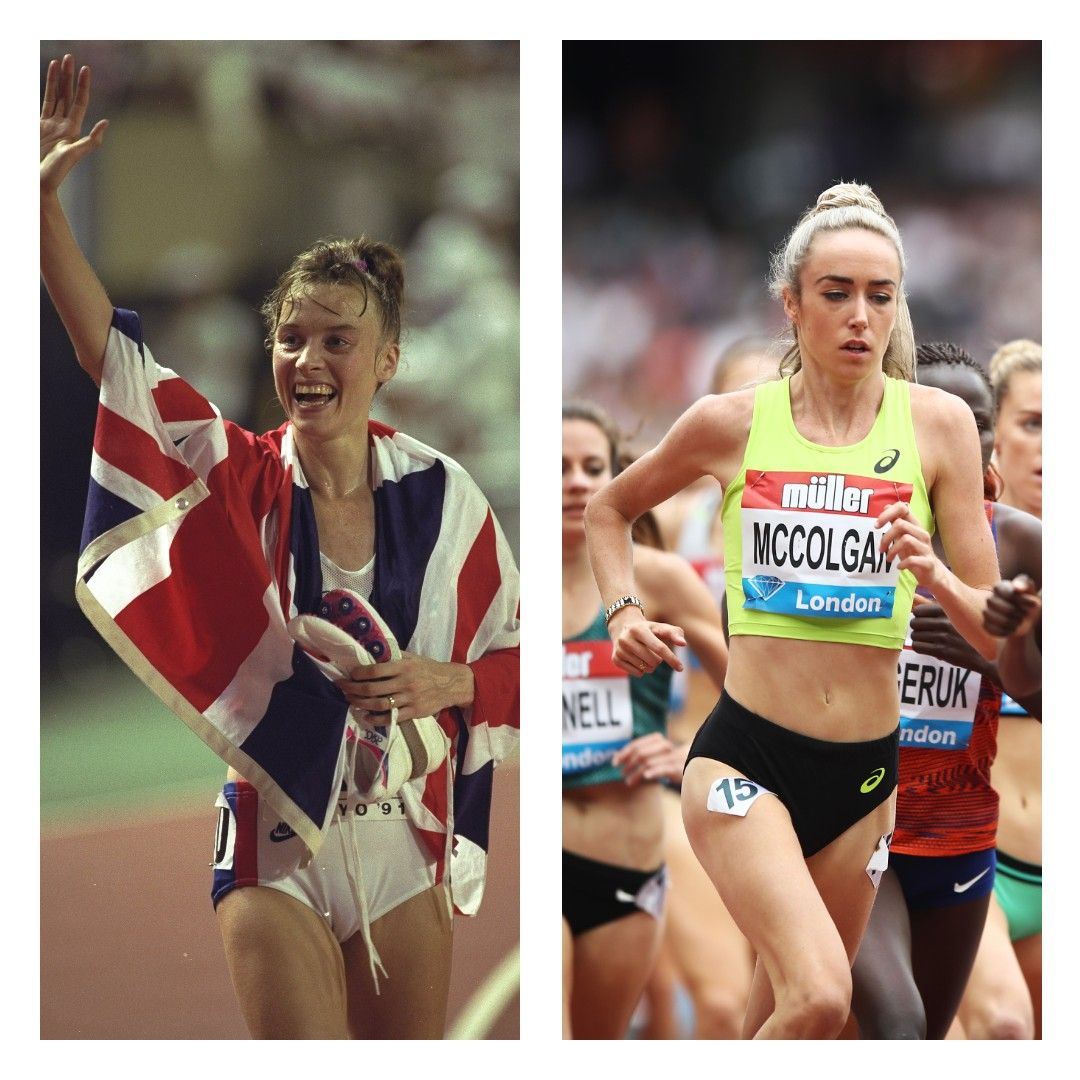 Great Britain's Liz McColgan became world 10,000m champion in Tokyo 30 years ago, running 31:14.31 to beat China's Zhong Huandi and Wang Xiuting. Prior to that, McColgan had claimed Olympic silver in 1988 and two Commonwealth titles for Scotland in 1986 and 1990. After her world championships success, she won the New York City Marathon that same year on her debut at the distance and also triumphed at the inaugural World Half Marathon Championships in 1992. Her London Marathon victory was achieved in 1996.
Incredibly, her world title win in Tokyo came just eight months after she gave birth to her first child, Eilish, whom she now coaches. A two-time Olympian and the 2018 European 5000m silver medallist, Eilish competed in the 3000m steeplechase in 2012 before injury forced her to switch to flat events. She raced the 5000m in Rio and intends to eventually follow her mother into marathon running, but will be targeting a place on the track in Tokyo.

Ximena Restrepo and Gert Weil – parents of Martina Weil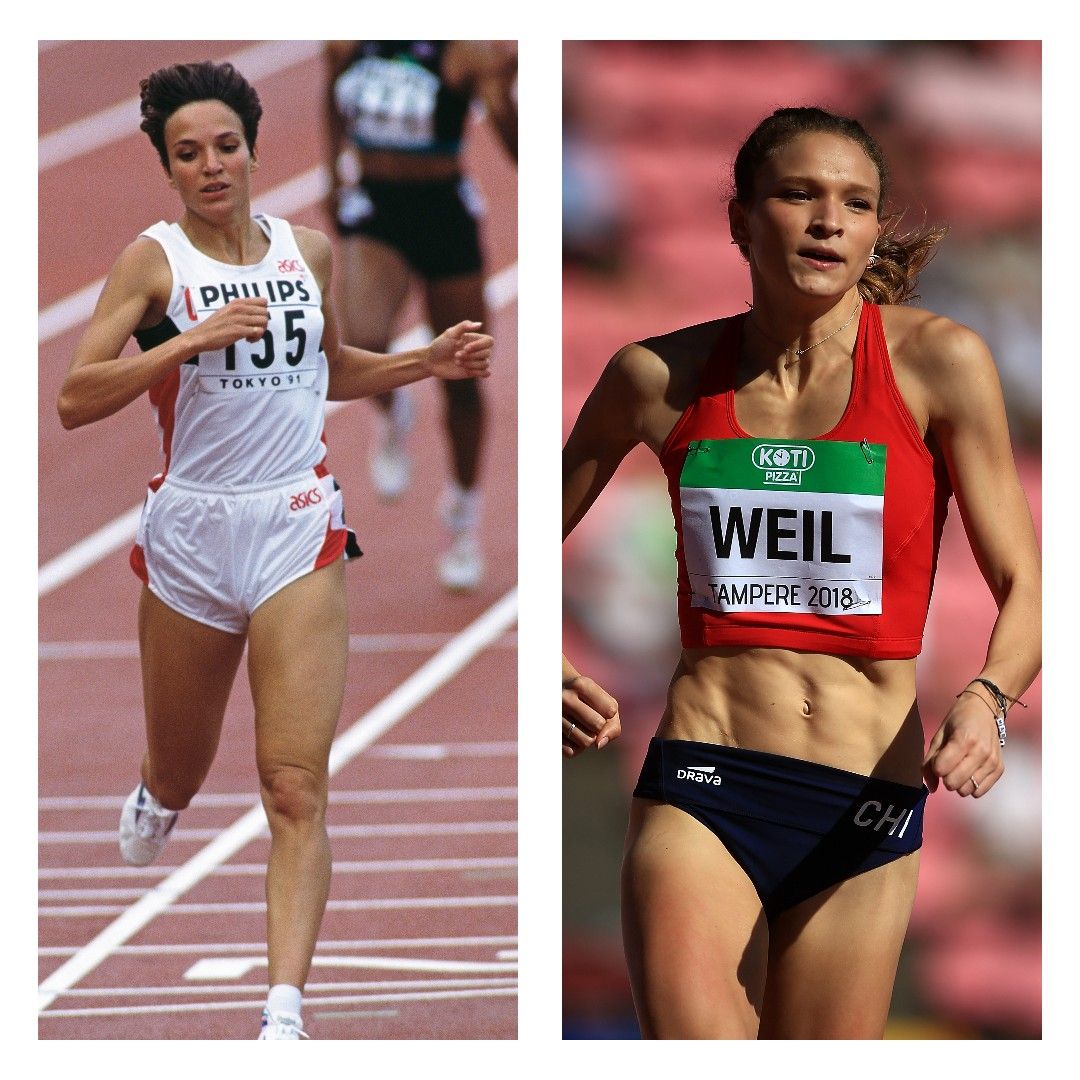 The year before her Olympic 400m bronze medal win in Barcelona, where she set the still-standing South American record of 49.64 to become the first Colombian woman to win an Olympic medal in any sport, Ximena Restrepo competed at the World Championships in Tokyo. That race saw France's Marie-Jose Perec claim victory, as Restrepo – now World Athletics vice president – finished sixth. Also competing in Tokyo was Restrepo's husband Gert Weil, who placed ninth in the shot put for Chile.
Their daughter, Martina Weil, has opted for the track and broke the Chilean 400m record with 52.60 when winning the South American U23 title aged 19 in 2018.

Ringa Ropo-Junnila – mother of Ella Junnila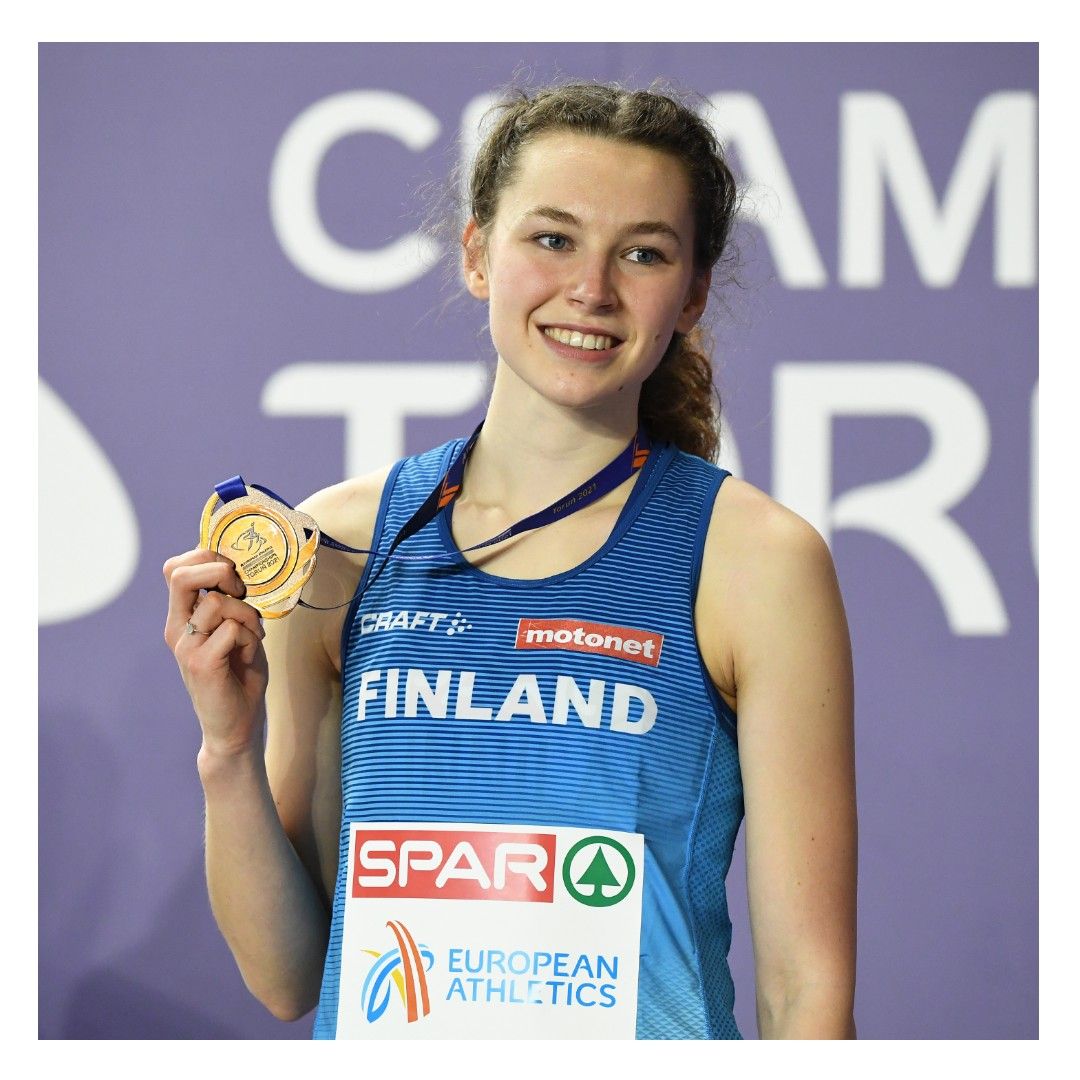 Finland's 1989 European indoor bronze medallist Ringa Ropo-Junnila leapt 6.63m in the 1991 World Championships long jump final to place ninth in a competition won by the USA's Jackie Joyner-Kersee. Her PB of 6.85m set the previous year remains the Finnish record, while she went on to compete at the 1992 Olympics.
Ropo-Junnila also achieved a high jump PB of 1.85m and her daughter Ella has added 11cm to that mark, having broken the outdoor national record with 1.95m in 2019 and then cleared a Finnish indoor record of 1.96m when claiming European indoor bronze in Torun earlier this year.

Derartu Tulu – cousin of Genzebe Dibaba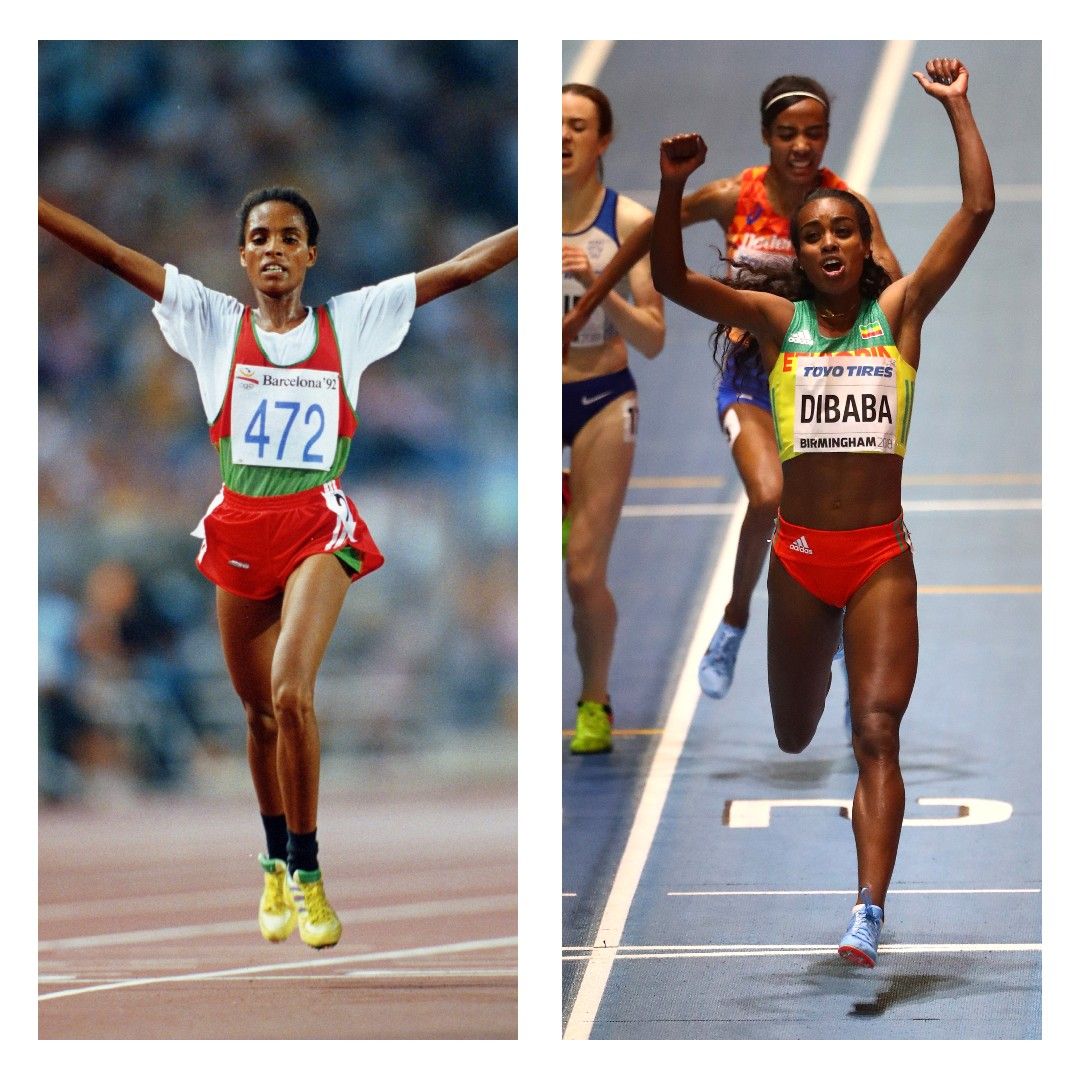 The year before her first Olympic 10,000m win – a feat she repeated eight years later – and a decade ahead of her world title victory in Edmonton, Ethiopia's Derartu Tulu finished eighth in a Tokyo World Championships final won by Liz McColgan. Like McColgan, Tulu also went on to win the New York City and London marathons and she is now president of the Ethiopian Athletics Federation.
Part of a highly successful sporting family, one of Tulu's cousins is Genzebe Dibaba, the world 1500m record-holder and younger sister to multiple global gold medallist Tirunesh. Genzebe ran her world record of 3:50.07 in 2015, the same year she won the world title, and will be hoping to go one better than her silver in Rio when she takes to the track in Tokyo this summer.

Norifumi Yamashita – father of Jun Yamashita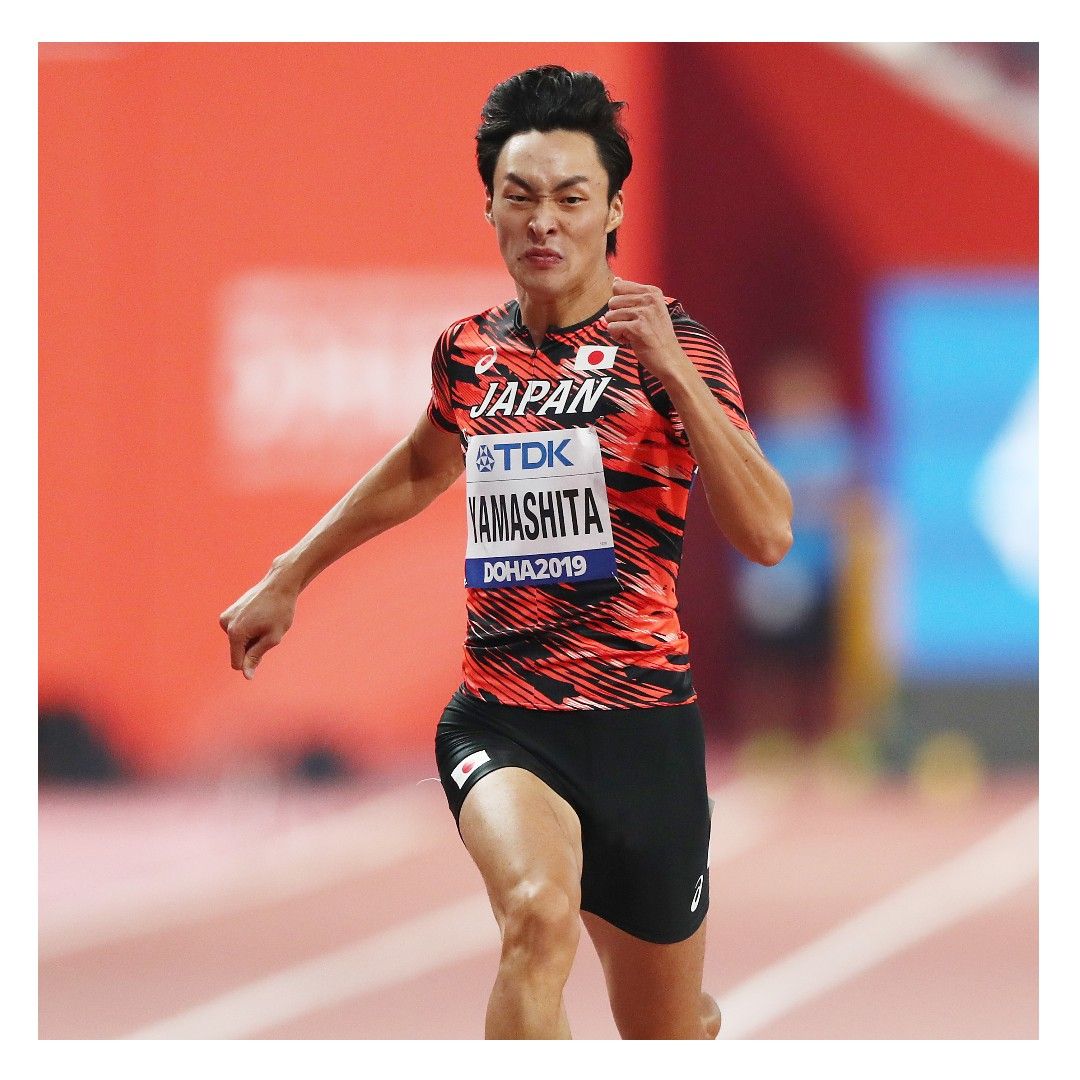 The first Japanese triple jumper to break 17 metres, Norifumi Yamashita's 17.15m set in Tokyo in 1986 remains the national record. Five years later in that same city, he finished 11th in the World Championships final, leaping 16.26m in a contest won by the USA's Kenny Harrison.
His children also compete in athletics, with his second son Jun having raced the 200m at the World Championships in Doha. Jun also competed at the recent Ready Steady Tokyo Olympic test event, finishing fourth in 20.61.

Powell and Surin
Half of Canada's 4x400m team could also potentially include the daughters of athletics legends Mike Powell and Bruny Surin, who won the long jump and finished eighth in the 100m final respectively in Tokyo in 1991.
World long jump record-holder Powell's daughter Micha was named on the 2016 Olympic team and has Tokyo in her sights, as does Olympic and world gold medallist Surin's daughter Katherine, who set her 400m PB of 52.43 when finishing third at the Canadian Championships.