Ukrainian javelin thrower Artur Felfner at the World Athletics U20 Championships Cali 22 (© Marta Gorczynska)
Outside his home in Brovary, Ukraine, Artur Felfner looked to the skies in late February and saw a terrifying sight.
"Russian bombs were dropping on all people in the area," says Felfner. "The first day, I see Russian planes (dropping) bombs in my city – not (on) my home, but near my home."
Brovary is a city of about 100,000 inhabitants, an eastern suburb of the country's capital, Kyiv, and Felfner struggles to find the words when asked to describe what life was like there at the end of February and the start of March.
"It's really not good," he says. "I don't think about sport in this time."
On 26 March, he left Ukraine and travelled to Portugal, where he was based for two months alongside other Ukrainian athletes like Maryna Bekh-Romanchuk and Yaroslava Mahuchikh. In May Felfner relocated to Finland, where he spent the next two months with his coach, Rymko Vyacheslav, and trained alongside Finnish thrower Janne Laspa, who had beaten Felfner to gold by just 14cm at last year's World Athletics U20 Championships in Nairobi.
"I have to say thank you so much to Finland," says Felfner. "The conditions there were so good. And I did it."
By 'did it', he means he became a world U20 champion, despite all he faced this year.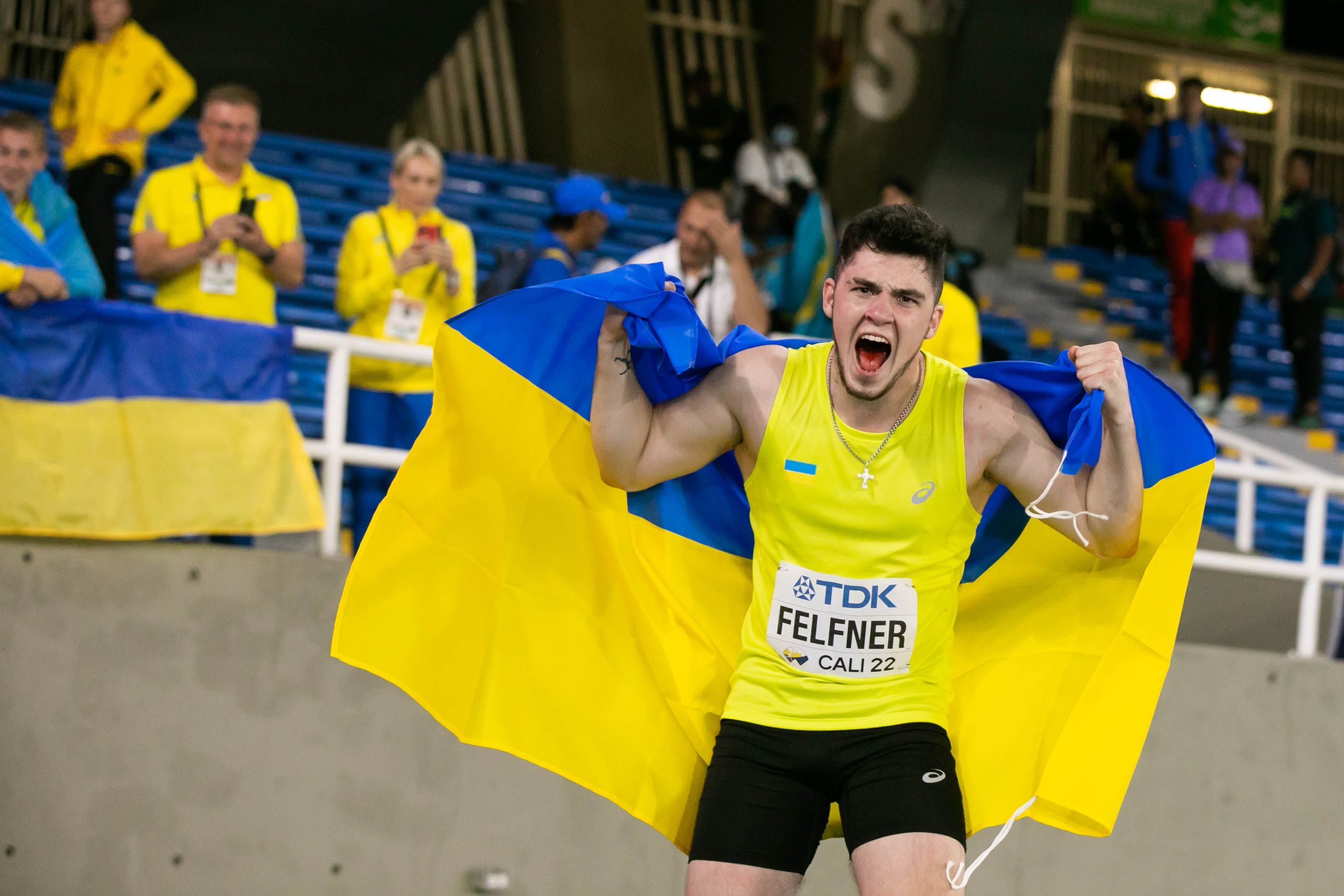 Ukraine's Artur Felfner celebrates his javelin win at the World Athletics U20 Championships Cali 22 (© Marta Gorczynska)
Granted, Felfner was the overwhelming favourite for men's javelin gold at the World Athletics U20 Championships Cali 22, but that's not to say it came easy. He went into the event as the only thrower who'd ever gone beyond the 80-metre mark, launching the spear 84.32m in Samorin, Slovakia, in June, moving him to fourth on the world U20 all-time list.
But going to Cali he had a niggle in his foot and, given the Ukrainian team did not have a physio there, Felfner's coach asked for help from the Irish team that was sharing their hotel. The Irish team physiotherapist, John Fagan, treated Felfner's injury and taped his foot ahead of the qualification round and final.
The evening of his final last Friday (5), Felfner had one last issue to contend with: an hour-long delay due to a thunderstorm.
When he eventually took to the runway, he grabbed the lead in the opening round with a 76.20m throw, but was soon overtaken by Germany's Max Dehning, who threw 77.24m in the second round. It took Felfner until the fifth round to better that, but his 79.36m there put the competition to bed.
Not that he was overly impressed by his effort.
"The result is not good for me, I need over 80 metres," he said, draped in a Ukrainian flag, the symbolism of his victory not lost on him. "It's really important for me, yes. A lot of guys in Ukraine tonight – my family, my friends – see this competition on (the) live stream and I'm so happy about that medal."
During the first few months of the war, his mother and brother relocated to Bulgaria, but they have since returned to Brovary, and Felfner hopes to join them in September. But first, he's got another championship looming: next week's Europeans in Munich. Felfner is ranked ninth in the men's javelin field, and his goal is simple.
"If I throw qualification, I'll be really happy," he says.
For many years, the javelin has been the world around which his life has orbited. On the inside of Felfner's right wrist, there's a tattoo of a figure throwing a spear, which he had inked there at the age of 15, shortly after he first surpassed the 70-metre barrier.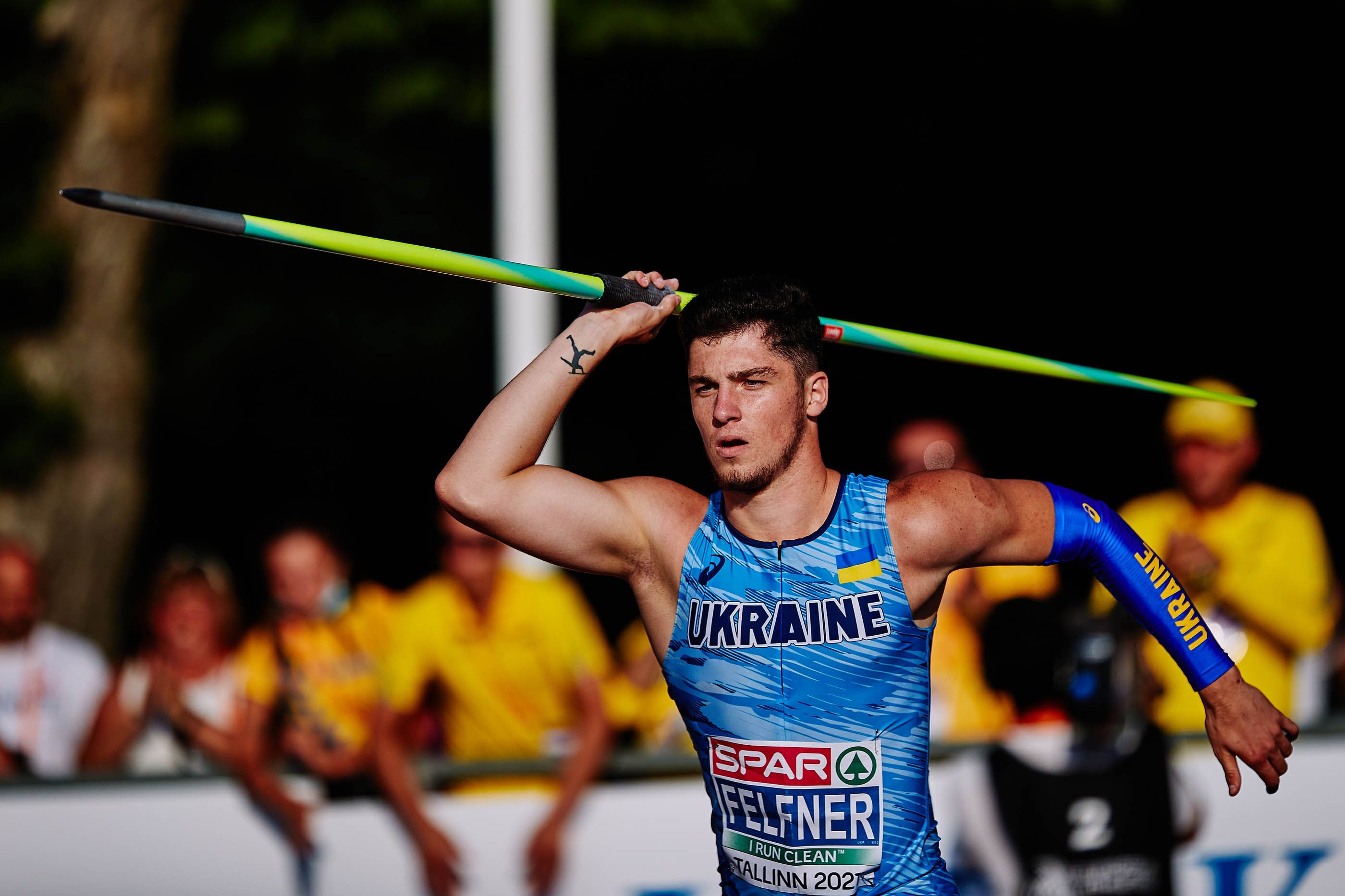 Ukrainian javelin thrower Artur Felfner at the 2021 European U20 Championships in Tallinn (© Getty Images)
He was eight when he first tried the event, picking it up from his father, an athletics coach. "But he's not good with technique," says Felfner.
In his early teens, Felfner enrolled in a sports school and began to work with Vyacheslav, his current coach. His big breakthrough came in 2019, when he threw 79.37m at an international match event in Kyiv. He was just 15 at the time. The following year, he improved to 82.08m and in 2021 he won European U20 gold and world U20 silver.
When it comes to throwing, his role model is two-time Olympic champion Andreas Thorkildsen of Norway, whose technique he has studied extensively, alongside that of world record-holder Jan Zelezny. In June, Felfner edged ahead of Thorkildsen on the world U20 all-time list with 84.32m, and only three athletes are now ahead of him on that list.
Two of them – India's Neeraj Chopra and Trinidad and Tobago's Keshorn Walcott – went on to become Olympic champions, but when Felfner looks at the road ahead, he's taking it steady. He has three main goals next year: to throw over 85 metres, to qualify for the World Athletics Championships Budapest 23, and to take gold at the European U23 Championships in Espoo, Finland.
But, more immediately, he's looking forward to something else: his return to Brovary next month to recommence his studies and reunite with his family.
And as he notes, most importantly of all: "They are safe."
Cathal Dennehy for World Athletics