Al Oerter in action at the 1968 Olympics (© AFP / Getty Images)
Al Oerter was already halfway towards becoming an Olympic track and field legend when he stepped into the discus circle for his fourth-round throw at the Coliseum Relays in the Los Angeles Memorial Coliseum on the evening of 18 May 1962 – 60 years ago.
At 25, the native New Yorker had won the first two of his unprecedented four successive Olympic titles, both against the odds and the challenges of the current world record-holder. He had also survived a car crash that almost ended his life.
The colossus of the discus throw had yet, however, to etch his name into the world record books.
A landmark
The global mark belonged to one of his rivals in the Coliseum Relays field. Jay Silvester had thrown 60.72m at the International Military Championships at the Heysel Stadion in Brussels the previous August.
In round two at the LA Coliseum, where John Anderson won home gold for the US at the 1932 Olympic Games, Oerter had come close with a throw of 60.54m. Then came a foul.
With his fourth effort, though, the sandy-haired 1.93m (6ft 4in) 134kg (295lb) bear of a man hurled his discus out to 61.10m.
"I was at the LA Coliseum that night," veteran coach Jack Hayes posted on aloerterbacktoolympus.com in 2020. "Some 58 years later, I still recall the excitement watching that throw land past the chalk line at 200ft."
In a country where the customary system of measurement historically favours feet and inches, Oerter's throw of 200ft 5.5 inches was hailed as a landmark track and field accomplishment.
A world record ditched
The quest to breach the 200-foot discus barrier had been regarded in the United States as a field event version of the four-minute mile run.
It had been surpassed in competition twice before, but on both occasions in circumstances that rendered the marks invalid.
The first to do so was Richard 'Rink' Babka, the US thrower who ended up second to Oerter at the 1962 Coliseum Relays with 59.05m. Competing in the Apple Valley Relays at Victorville, California in March 1958, Babka had a throw measured at 201ft 0in but his discus landed in a drainage ditch 5.9 inches below level of the throwing area, 5.5 inches beyond the legal sloping limit.
The official distance was adjusted by head judge Jim Reinhard to 198ft 10in. At 60.60m, that would have eclipsed US thrower Fortune Gordien's five-year-old world record mark of 59.28m but the fact that the circle was painted on to the concrete surface, though acceptable under NCAA rules at the time, was not permitted by the AAU or IAAF.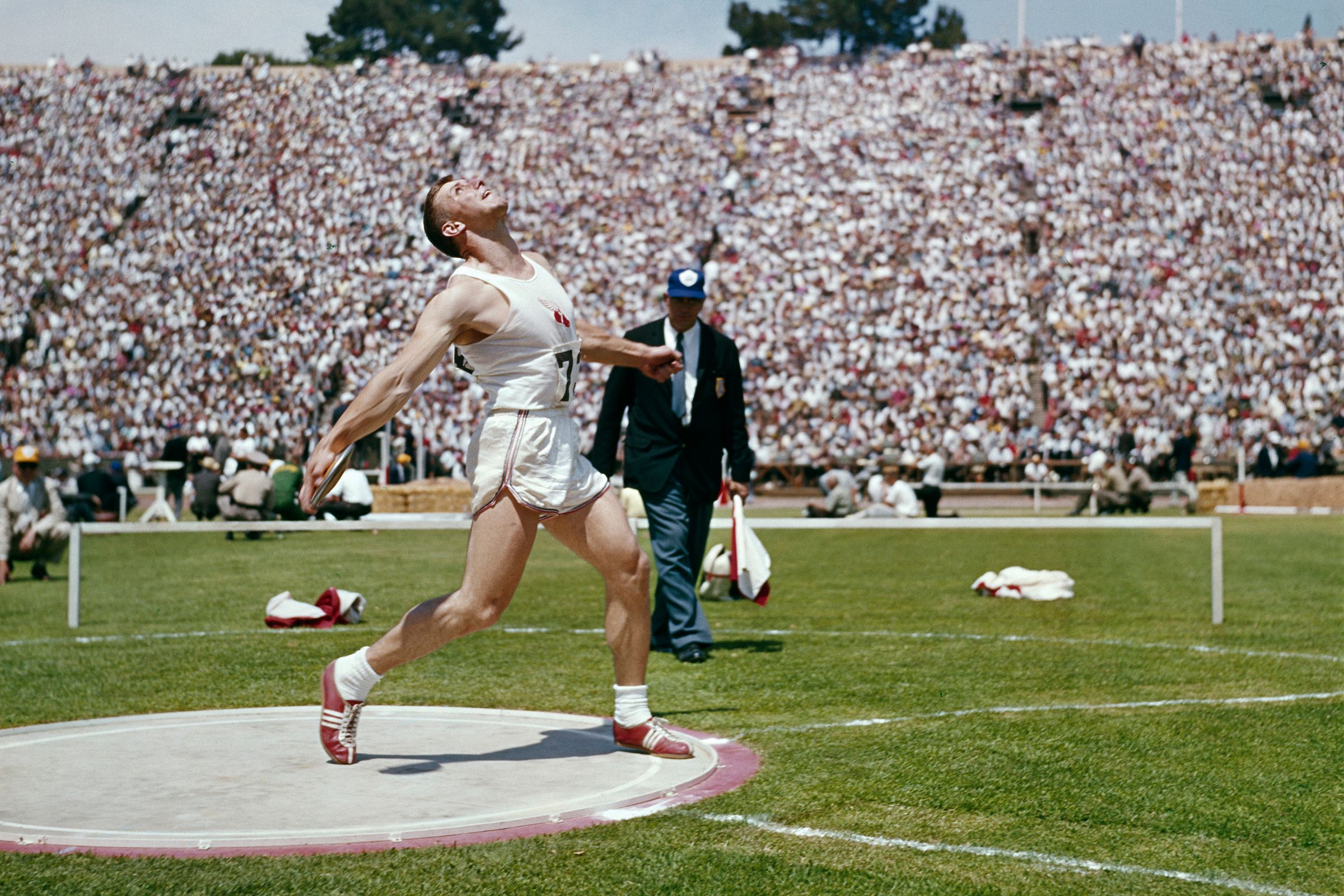 US discus thrower Al Oerter (© Getty Images)

Oerter himself threw 202ft 6in, 61.72m, at the Arkansas Relays in Fayetteville in April 1958, but the field sloped 2.5%, too steep for ratification.
Oerter's officially recognised record did not last long. On 4 June 1962, just 17 days after the Coliseum Relays, Vladimir Trusenyev of the Soviet Union eclipsed that 61.10m with 61.64m in Leningrad.
Less than a month later, on 1 July, Oerter reclaimed it with 62.45m at the USA v Poland meet at Stagg Field, Chicago. He then improved the world record to 62.62m at the Mt SAC Relaysin Walnut, California, in April 1964 but lost it in August that year, when his Czech rival Ludvik Danek threw 64.55m in Turnov.
Oerter never regained the global mark. Instead, he established himself as one of the all-time greats in the competitive arena, becoming the first track and field athlete to win four successive Olympic gold medals in a single event. Over time, the feat has only been matched over time by Carl Lewis in the long jump.
When Oerter died in 2007, aged 71, Hal Connolly, who won hammer gold as a US teammate at the 1956 Olympics in Melbourne, described him as: "the greatest field event athlete of the 20th century. He was not just a great Olympian but Zeus himself."
In each of his Olympic triumphs, Oerter surpassed the Olympic record, beat the current world record holder, overcame injury and eclipsed the favourite for gold. He could have extended his run much farther had it not been for premature and temporary retirement, a US boycott and injury.
Still, he might never have stepped into a throwing circle at all.
Swapping track for field
Born in the Astoria district of Queens in New York City, Alfred Adolph Oerter Jr grew up in New Hyde Park, Long Island. He started his athletics life as a sprinter but at 15 graduated to middle-distance running, when a stray discus landed in front of him on the track at Sewanhaka High School.
He casually threw it back farther than the school teammate who had thrown it and the school coach immediately insisted that he swapped the track for the field. He set a national schoolboy record, earned a scholarship to the University of Kansas, where he was a classmate of the basketball star Wilt Chamberlain.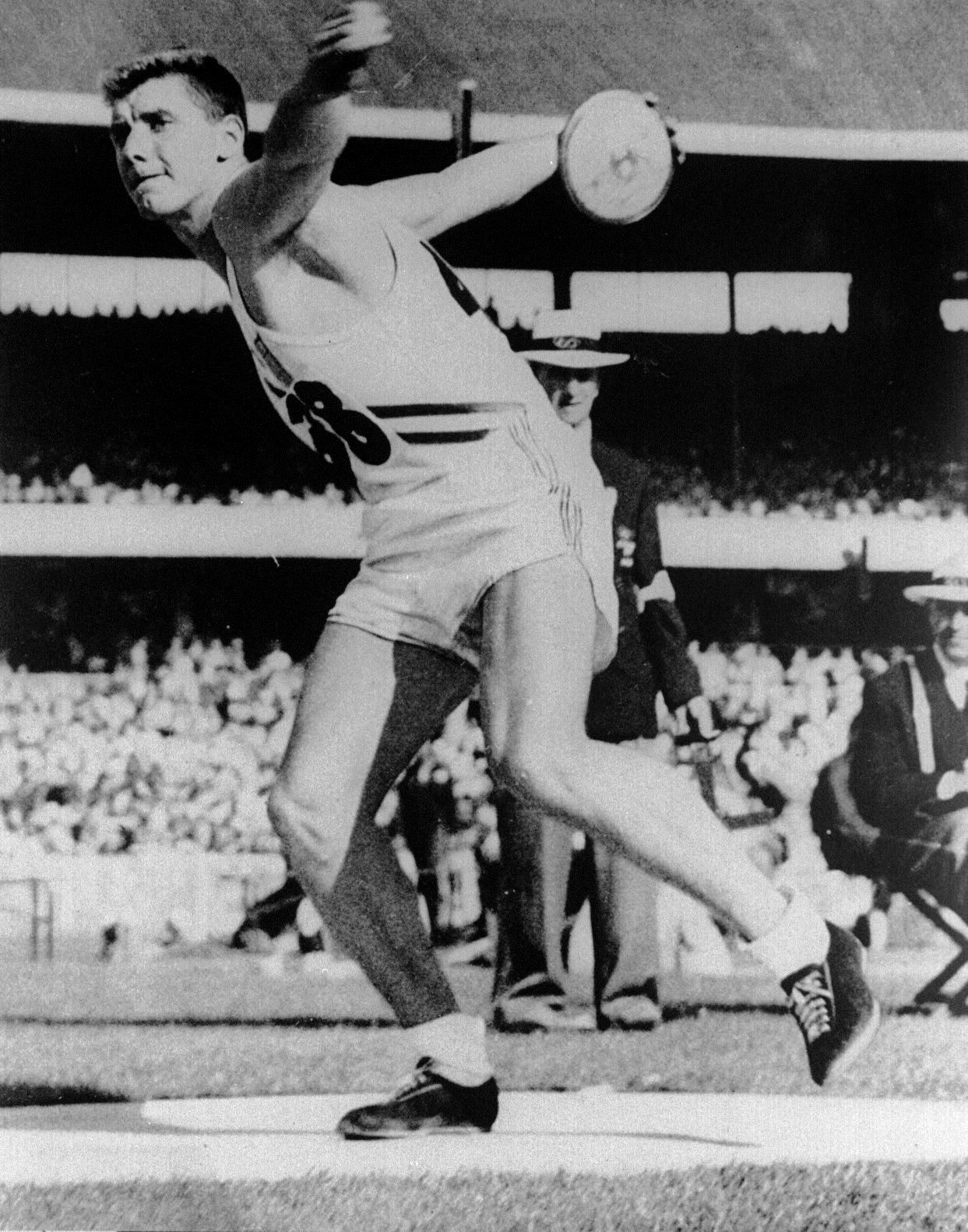 US discus thrower Al Oerter (© Getty images)

Just five years after first picking up a discus, Oerter found himself making the long-haul trip to Melbourne for the 1956 Olympic Games.
Inspired by watching the first-round throws of the two favourites, current record holder Gordien and 1948 champion Adolfo Consolini of Italy, and by the buzz generated by the 100,000 crowd in the Melbourne Cricket Ground, the 20-year-old rookie international unleashed an opening effort of 59.18m. He broke the Games record of 55.03m, set by compatriot Simeon Iness in Helsinki four years previously, and shattered the spirit of his rivals.
No one was more stunned than Oerter himself. "I had a hard time even raising my arm after that," he said. He finished a clear winner and was so overwhelmed by his unexpected success that he almost fainted on the medal podium.
Gordien took the silver medal with 54.81m. At 34, he moved on to other challenges, becoming an escape artist and illusionist.
Babka's friendship helps land Rome gold
In 1957 Oerter was lucky to escape death in a car crash. He recovered from his near-fatal injuries to make the US team for the 1960 Olympics in Rome.
Rink Babka, the joint world record-holder, started favourite in the Stadio Olimpico and led with an opening effort of 58.02m. The struggling Oerter couldn't get close but as he prepared for his fifth-round throw Babka advised him that he had been carrying his left arm too low as he spun.
Oerter duly adjusted and unleashed a 59.18m Olympic record and PB. The gracious Babka was unable to improve on his opening throw and had to settle for silver. "He had the gold medal in his pocket but he was a friend and a great team mate," a grateful Oerter reflected.
The odds were stacked heavily against the pride of Long Island completing an Olympic hat-trick in Tokyo in 1964. He was already suffering from a chronic cervical disc injury which necessitated the use of a neck brace when he slipped on some wet concrete in throwing circle six days before the competition and tore cartilage on the right side of his ribcage.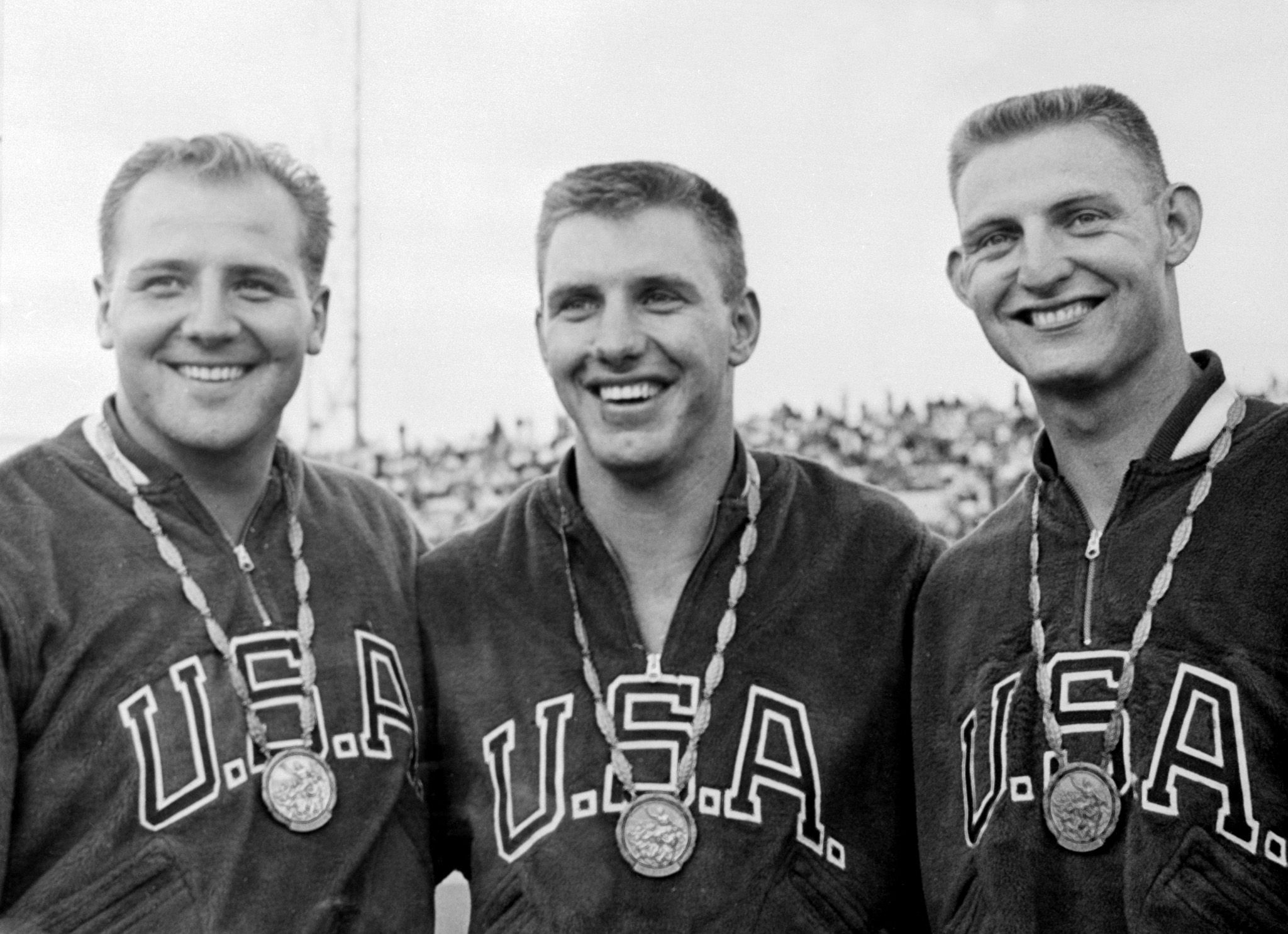 USA's 1960 Olympic discus medallists Rink Babka, Al Oerter and Dick Cochran (© AFP / Getty Images)

There was internal bleeding and Oerter was in severe pain, which was exacerbated to the point of excruciating by the stretching motion involved in attempting to throw. The US team doctors told him to forget about the Olympics and rest for six weeks.
Oerter demurred. "This is the Olympics: you die before you quit," he told them.
Ludvik Danek was the clear favourite. He had taken the world record out to 64.54m and was unbeaten in 45 competitions.
Oerter paced the discus area like a wounded animal, finally ripping the tape off his side to nail an Olympic record of 61.00m in round five. It moved him from third to first and earned him the gold ahead of Danek, who threw 60.52m.
In Mexico in 1968, Oerter's US teammate Jay Silvester, holder of the 68.40m world record, was favourite. He broke Oerter's Olympic record in qualifying but only finished fifth in the final. Oerter took his fourth Olympic gold with his fourth Olympic record, a lifetime best of 64.78m.
69.40m PB at 43
After a handful of competitions in 1969, the quadruple Olympic champion slipped into retirement, resisting the temptation to go for gold number five in 1972.
Then, in the autumn of 1976, as his wife Cathy, a former international long jumper, related: "Al was driving through New England and found an all-comers' meet at a local high school. He hadn't thrown or lifted in almost eight years. He borrowed a discus and a pair of throwing shoes and walked on to the field unannounced.
"For an entry fee of 50 cents, he won a 4 inch trophy that was as important to him as an Olympic gold medal. He said, 'To be out in the fresh air competing with people who chose to do exactly the same thing was thrilling!'"
Oerter's goal was to qualify for the Moscow Olympics in 1980. That was scuppered by the US boycott but trials were still held at Hayward Field and, aged 43, he finished fourth, despite injury. The Eugene track and field aficionados rose to their feet and gave him a standing ovation that lasted for 10 minutes.
In May that year Oerter threw a PB of 69.40m and finished 1980 ranked second on the world list. Injury thwarted his attempt to gain selection for the home Olympics in 1984, yet still the old general of the discus soldiered on, throwing 62.40m at the age of 50 and claiming a world masters' title in Eugene.
'An interesting life'
Throughout his athletics career, Oerter fitted in his training around his work as a computer executive for the Grumman aircraft company on Long Island. In later life, he became a motivational speaker and an abstract painter, founding the Art of the Olympians, a programme showcasing the artistic talents of Olympic and Paralympic competitors and the spirit of the Games.
Oerter suffered from high blood pressure all of his life and was told at the age of 61 that he needed a heart transplant. He declined, saying: "I've had an interesting life and I'm going out with what I have."
He died ten years later, in 2007 at Fort Myers, Florida.
"All I ever wanted," he once reflected, "was the feeling of the sun on my shoulders, a discus in my hand, a solid ring under me, turning with greater force than anyone has ever achieved, leaning into one more throw."
Simon Turnbull for World Athletics Heritage