Joe Kovacs celebrates at the Wanda Diamond League Final in Zurich (© AFP / Getty Images)
The significance of that sensational 23.23m put was not lost on Joe Kovacs. Breaking 23 metres had always been the aim but for much of 2022 that target ran in tandem with another looming milestone: the arrival of his twins with wife Ashley.
As such, when Joe achieved that monster throw at the Wanda Diamond League Final in Zurich, it was no surprise. He knew a performance like that had been coming. It was also no shock when the exact distance was confirmed as 23.23m. Not one '23', but two. He did it for the twins.
Three months on, Joe and Ashley are proud parents to Kannon Mathias and Kaari Marie, who arrived on 19 October.
"The big goal has always been to throw 23 metres. I think everybody has seen me be capable of that for a long time so to be able to throw 23.23m, it's like of course, that's for the twins right there. That's the way to do it," Joe says with a smile.
"That one was a big milestone, and I definitely did it for the twins."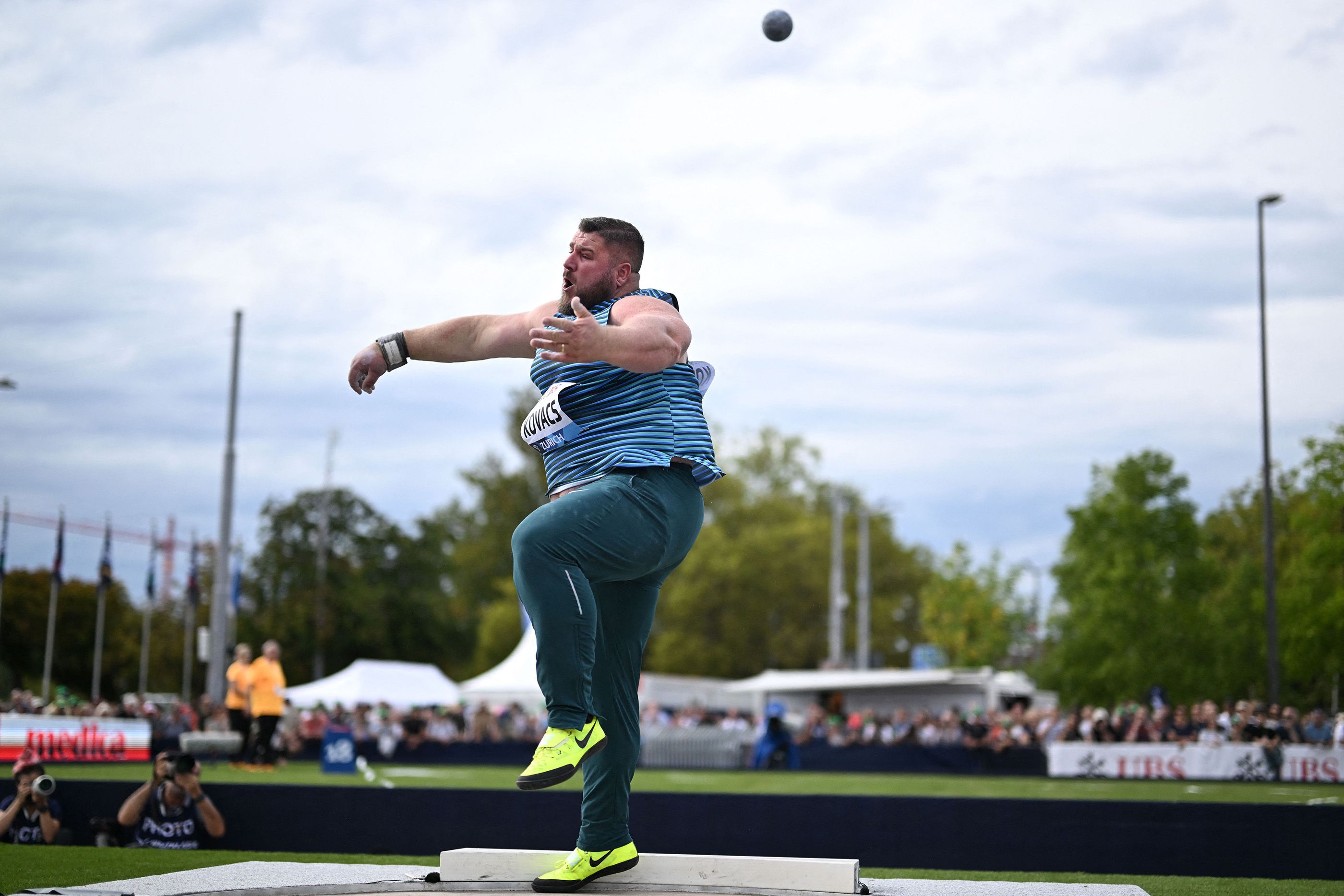 Joe Kovacs competes in the Wanda Diamond League final in Zurich (© AFP / Getty Images)
It has been quite a year for the Kovacs family. One of the most consistent athletes of the last decade, Joe added another major shot put medal to his haul at the home World Athletics Championships Oregon22 in July, throwing 22.89m in another thrilling clash with his US compatriot Ryan Crouser – one that ended with Crouser claiming his first world title and Joe securing silver.
Since making his international debut at the World Championships in Beijing in 2015, Joe has contested six global events and won six medals – gold in Beijing followed by Olympic silver in Rio in 2016, world silver in London in 2017, world gold in that remarkable final in Doha in 2019, Olympic silver in Tokyo in 2021 and most recently world silver in Oregon in 2022. But he hasn't done it alone. The 33-year-old has been coached by Ashley Kovacs, now associate head coach and throws coach for the Vanderbilt women's track and field programme, since 2019. Ashley not only guided her husband to world gold and silver in Doha and Oregon, respectively, but also held the role of USATF men's throws coach in 2019 and women's throws coach in 2022.
Their success this year didn't stop in Oregon. The World Championships was Joe's eighth competition of 2022 and he would go on to compete at another eight, carrying his consistency right the way through by finishing in the top two at every single meeting and surpassing 22 metres at 11. Capping the lot was his performance in Zurich on 7 September, where he threw that 23.23m during a superb street meet style showdown on Sechselautenplatz. That won him a second Diamond Trophy, seven years after he claimed his first.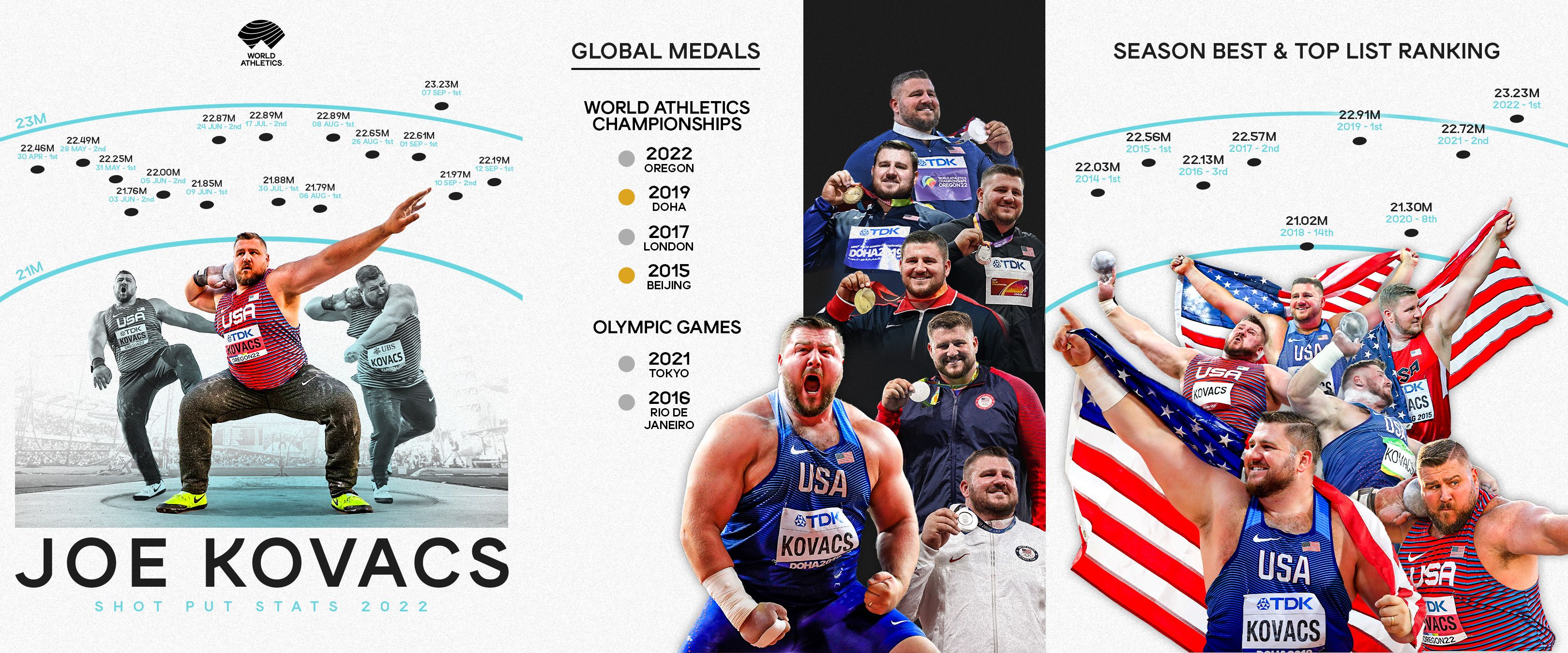 "I definitely went into that meet knowing that it was time to cash in," Joe reflects. "If I left this year without throwing a PR, I wouldn't call it a bad year, but I feel like when you know you're capable of something – and I think I am capable of throwing farther than I even did in that meet – you feel bad because you want to show what you work for. You want that to reflect.
"As my wife preaches to her athletes, and I say to them too – you put all that consistency in the bank and eventually you're going to be able to cash in. Everybody knows my wife is in control and I want people to know that she is right and I'm listening to her and it's paying off."
Another shot
Joe's shot put journey began when he was at high school and he turned to athletics as a way to keep fit for American football.
"I looked up to a guy who was a good football player. I was a freshman, he was a senior, and I just kind of followed him," says Joe. "He walked out with a crate of balls and I thought: 'I want to be that guy when I grow up, so if that's what he's going to do to train for the off season, then I'm going to do the same'.
"Knowing what I know now, he did a terrible job throwing, it was the worst technique!" he adds with a laugh. "But that's what got me into it."
There was no track or specialist facilities at the small school he attended, so Joe threw out of a car park, coached by his PE teacher mother, Joanna. They sought guidance from Glenn Thompson, who coached two-time world indoor champion Ryan Whiting in high school, and Joe was hooked.
"We learned the spin technique," Joe explains. "I got addicted to the technique and to all the little details that sometimes are overlooked as being boring, but I looked at it as my way to compete with the people who were better than me and maybe taller or stronger at that time."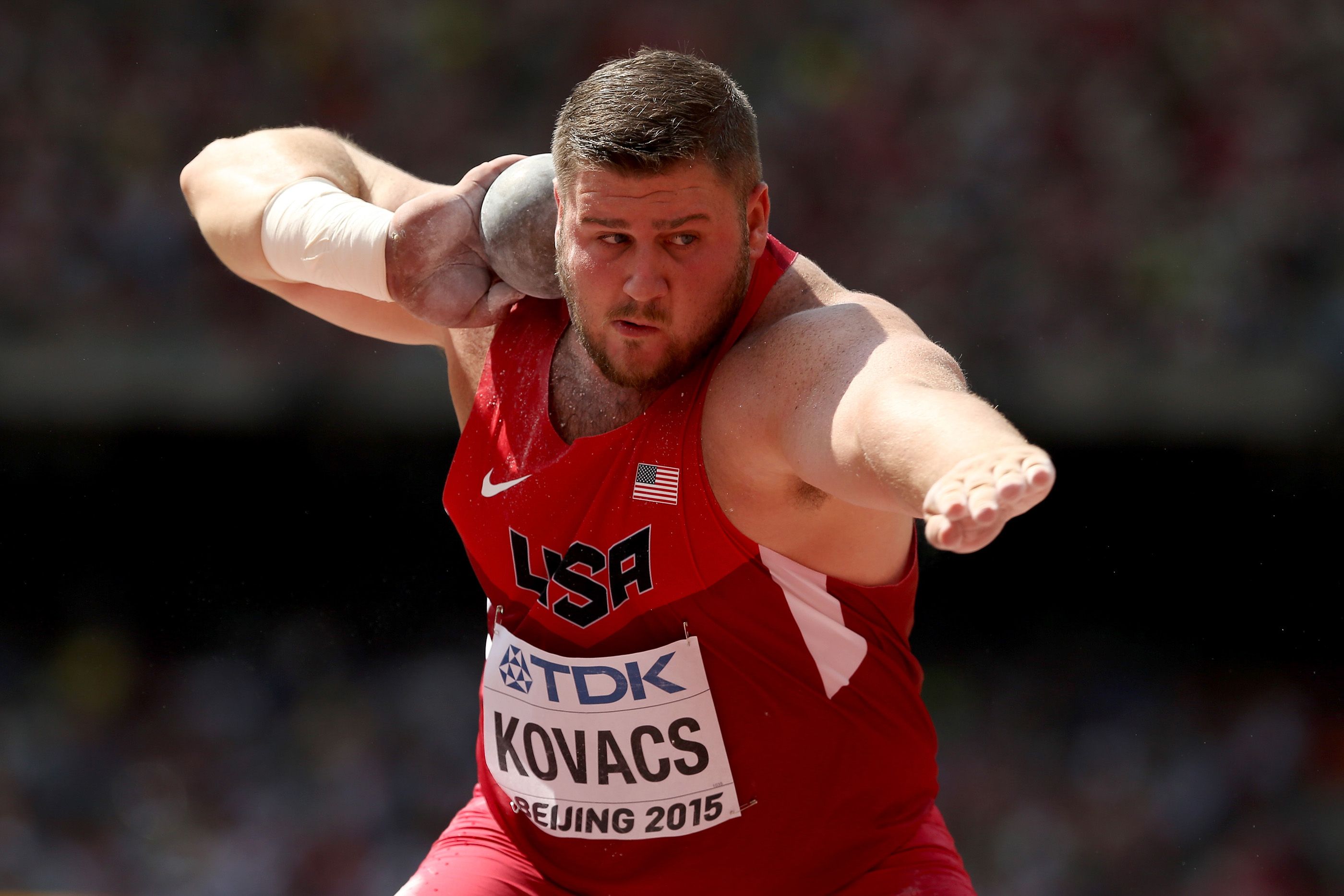 Joe Kovacs competes at the 2015 World Athletics Championships in Beijing (© Getty Images)
After studying at Penn State University, Joe moved out to California and worked with Art Venegas. "I just wanted a coach to tell me what to do and he taught me how to be a champion," says Joe. "I went from not being able to win a college championship to winning a World Championships under his tutelage."
After the 2017 season, Joe moved to Ohio with Ashley but struggled being coached by Venegas remotely. The following year, he contemplated retirement.
"I thought about being done in 2018," he says. "My wife was tired of watching me be bad for a whole year and she said: 'You're going to start listening to me for at least the next eight weeks and then you can make a decision'. I went from having the worst indoor meet of my life, to the end of that 2019 season – after listening to my wife and following her lifting programme and her throwing technique – winning that Doha World Championships by 1cm. That meant even more than just the win."


"Being a college coach, I had never coached anybody of that magnitude, really nobody had – Joe was one of the best in the world of all time at that point," Ashley says.
"I was a young coach, I wasn't sure that I even deserved that responsibility in some ways. I don't want to say I wasn't excited to do it, but the only reason I wanted to do it was to do anything I could to help him get out of the situation he was in. It was a breakthrough.
"It proved to me that I could trust myself and my judgement. The fact that he trusted me really gave me more faith in myself - if he is going to trust me, I need to trust myself and go with my instincts on this and that's what we did. That's the way we have been ever since."

During that epic world final, and in a thrilling last round, Joe threw 22.91m to take the title, winning by a single centimetre ahead of Crouser and New Zealand's Tom Walsh. It's a friendly rivalry that has continued ever since. Their performances that day in Doha moved the trio to joint third and joint fifth, respectively, on the world all-time list. But that list has evolved even more remarkably in the last couple of years.
Now Crouser is the world record-holder with the tremendous 23.37m throw he achieved at last year's US Olympic Trials, and Joe sits second thanks to his 23.23m. With Crouser also having thrown 23.12m at this year's US Championships and 23.02m at the Prefontaine Classic, it's the first time that two athletes have ever surpassed 23 metres in the same season in the men's shot put.
For Joe, consistency is key, and success breeds success.
"This is year 10 for me as a professional," he says. "It feels kind of crazy – I'm the person who never thought I'd be doing this after college.
"Everybody wants the quick fix to get to a high level, but I think it's the consistently underachieving when you know you have a high level. That just builds up over time. I focus on my minimum level most. Everyone is talking about their PR, but I want my low end to be high. So, if I can have more throws over 22 metres, and then 22.50m. And this year I think I had four meets or five throws over 22.80m, so I was knocking on the door.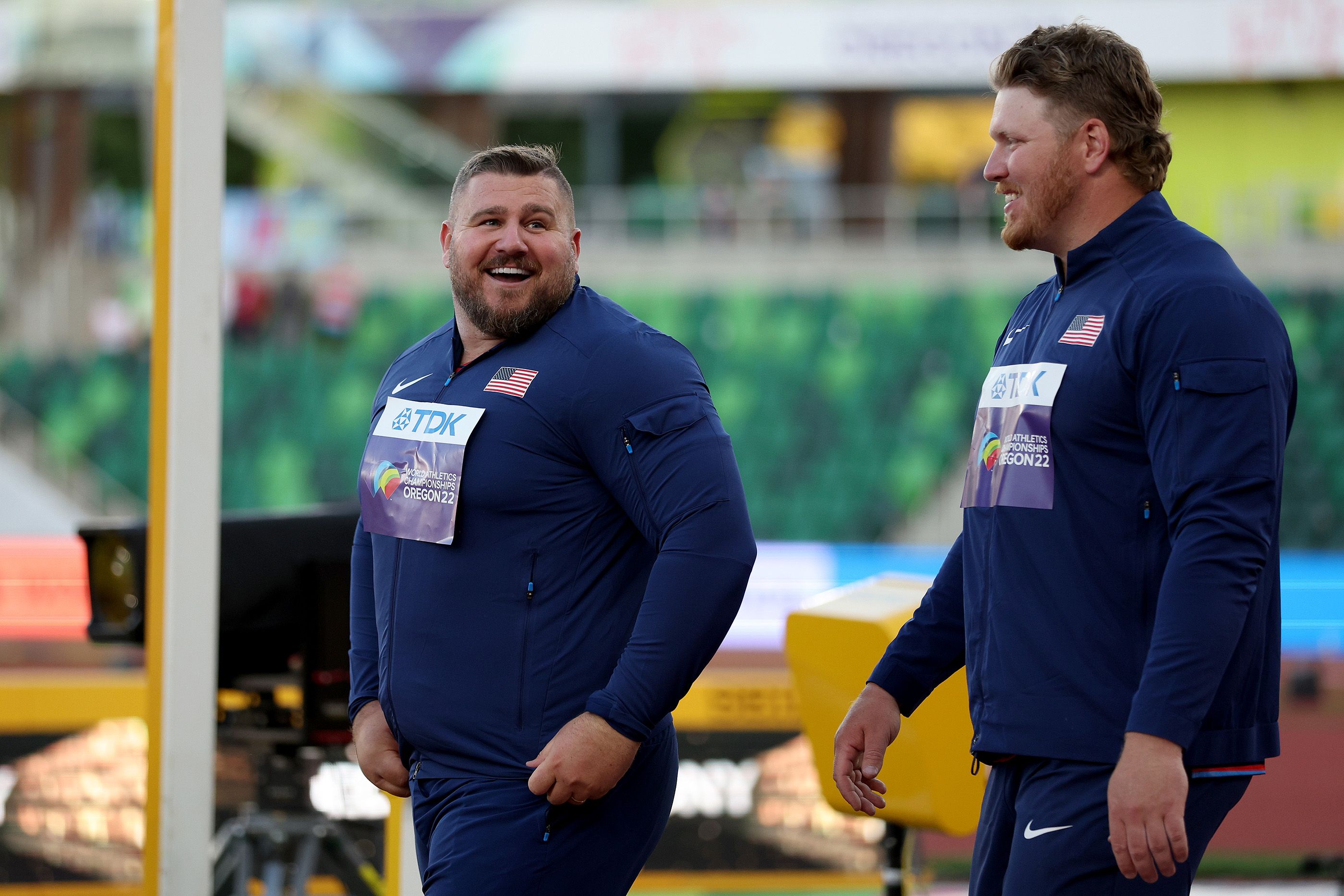 Joe Kovacs and Ryan Crouser at the World Athletics Championships Oregon22 (© Getty Images)
"In the shot put, it's a weird rivalry," he adds. "There's always respect, and that's why we get along. Once we get out there, you want to beat the other person as bad as you can.
"I think the event is at such a high level now. When I started, you tried to beat people. Now it's at such a high level that you need to only worry about executing your job perfectly, because if you take your eye off what you need to do, somebody will beat you. It's just a different mindset.
"The level is getting better and better. Sometimes that makes it very frustrating for me because I'd love to have an easy day sometimes! But I'm really proud because I see where the sport is going, I see the numbers getting higher."
Twin targets
The intensity of that rivalry only looks set to continue, which bodes well when there is another World Championships just around the corner. And much like Joe's shot put career, this next global event will also follow a family theme.
Now he has two more fans to throw far for and with next year's World Championships taking place in Budapest, it means even more to an athlete who has Hungarian roots.
"I always wanted to do this to be good for myself and to provide, but now I've got a little extra incentive. Well, two little ones!" Joe says.
"Next year with Budapest, my last name being Kovacs and my grandfather being from Hungary – that would be an awesome one to win."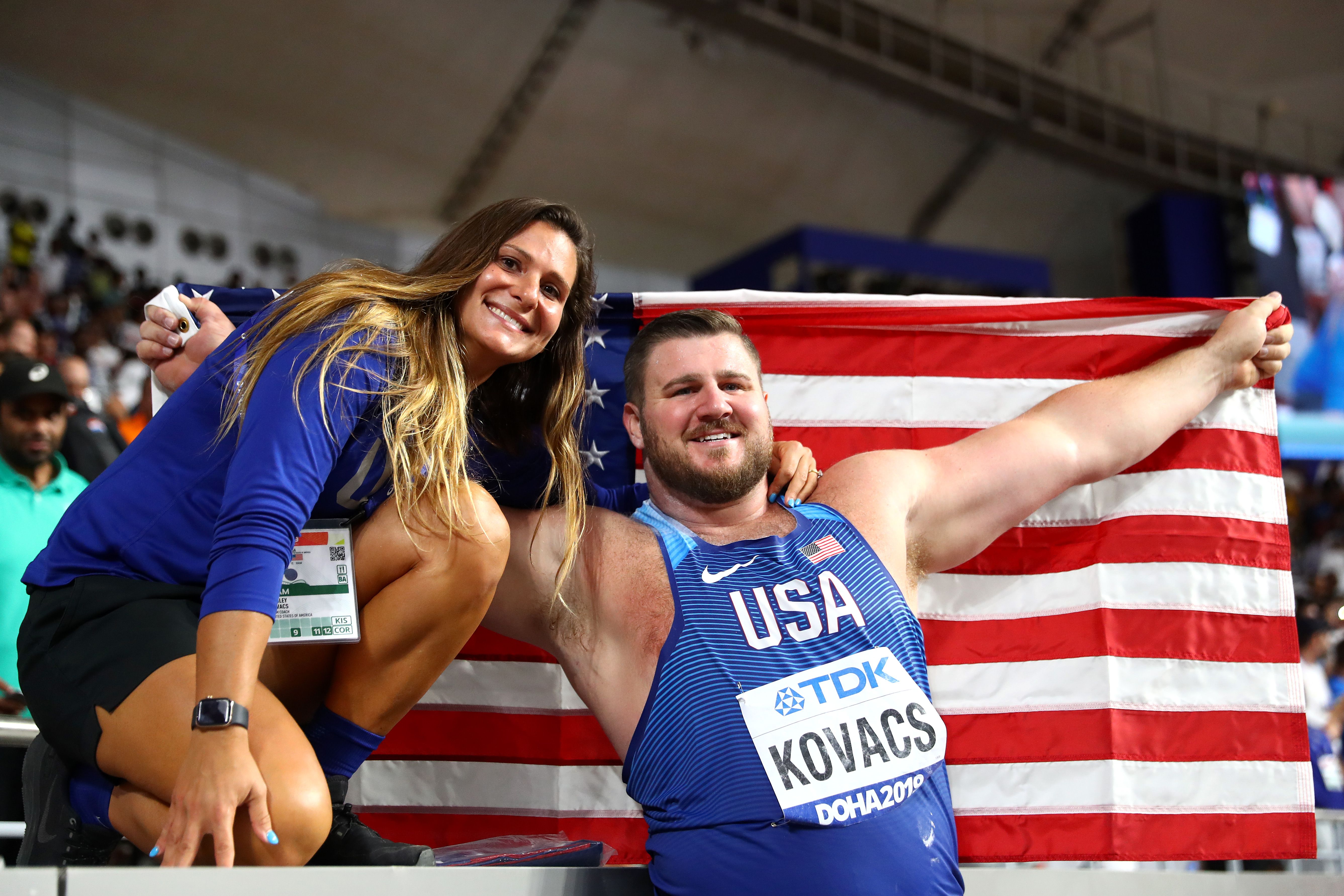 Ashley and Joe Kovacs at the World Athletics Championships Doha 2019 (© Getty Images)
It's all about being strategic, he adds.
"There are so many majors coming up. For me, there are only two track meets a year – there's the track meet for me to qualify, so the US Championships or the Olympic Trials, and the major," he explains. "Everything else is an exhibition on top of that.
"I mean that with respect to the Diamond League and World Athletics, but sometimes we're in the middle of a street, sometimes the set up is completely different. You have to be good at adapting and putting on a show. But for those two track meets (US Championships and the major) you have to be good at not being bad on a day that you might be bad, it's all about having a really high minimum.
"I go into both of those competitions with a different mindset. And I think no matter what, even with the twins in the future, those two meets are going to be treated with a lot of reverence. I'm going to have to learn how to adapt, and juggle being a dad with travelling and being away.
"I think we'll be able to pull it off, but I know it's going to be a journey. I have learned a lot in this first 10 years, so I'm going to rely on that, hopefully for the next 10."
Jess Whittington for World Athletics