Selemon Barega (© Guillaume Laurent)
A few hours south of Addis Ababa, beyond the Oromia region, is the northern most zone of the Southern Region – Gurage. Here, alongside rolling dark red dirt roads and an abundance of the green endemic enset plant – known as the "false banana" – this population of nearly two million has earned a reputation for being some of the hardest working in Ethiopia. Many Ethiopians respect Gurage people for being business savvy, who skillfully manage the demands of agricultural upkeep and urban commerce between Addis Ababa and the countryside. Selemon Barega, one of the most talented distance runners Ethiopia has ever seen, is a proud Gurage.
"In general, my national group is known by trade, they focus on commerce," Barega said. "The Gurage nation does not know anything about sport, but the Gurage people, if they start to work at anything, in any field, they become successful. They focus on work."
Barega, who grew up in a rural area with three sisters and four brothers, knew little about sport at an early age. His parents are farmers, and encouraged him to get an education, and because his family lacked a television or radio, he did not know of any Ethiopian legends he could aspire to be like. But rapid success in a local school competition led to another victory in a zonal race, and him ultimately joining a project nearby.
Projects are common pathways to clubs in Ethiopia, the latter of which provide a small salary and often cover basic living accommodations. Projects, by comparison, offer no financial incentive, but give up-and-comers a reliable group with which to train and grow. Barega joined the Southern Police Club at around the same time as he was offered to join the national team.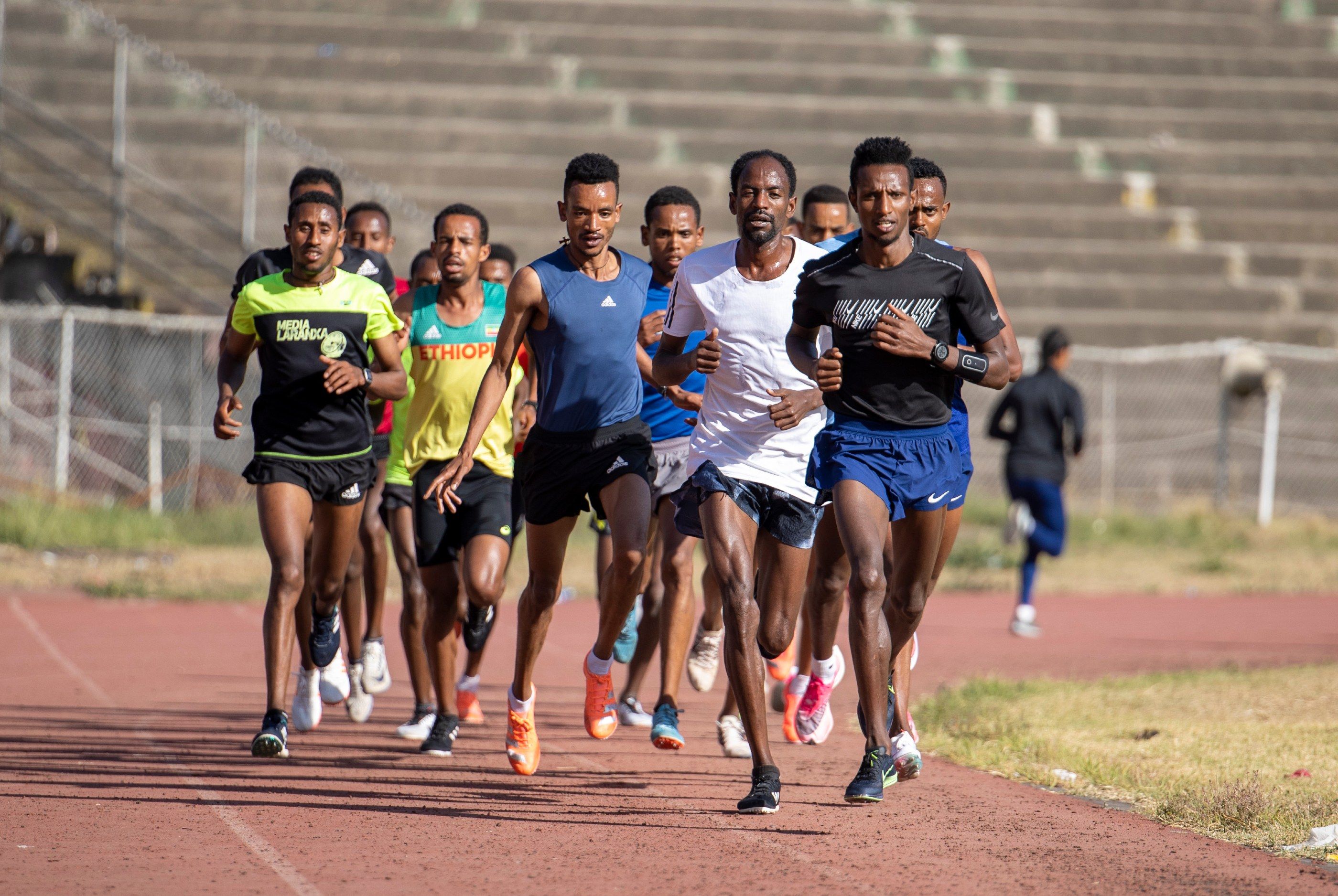 Selemon Barega in training (© Guillaume Laurent / ATHLE.ch)


"In our area, there was no one running," he explained. "My family members were not fans of running; their aim was only to push me to learn, so even when I joined the club they were not happy. It was not until I began receiving medals that they started to encourage me."
In 2015, before going off to win at the World Athletics U20 Championships in Poland, Barega moved to Addis Ababa, where he learned the history of Ethiopian athletics. "When I came to Addis then I heard stories about Kenenisa (Bekele) and saw his videos. I admired him for his speed," he remembers.
Barega's time of 13:21 at the age of 16 shocked the running world and began to inspire a local movement in his hometown. Now young boys all cite him as an inspiration to begin running.
Throughout the next several years Barega's times continued to drop, but he developed racing tactics that have led to countless victories and more importantly, racing conditions in which he always finds himself vying for a top spot. Barega has several registers of speed and seems to effortlessly shift gears in the final laps of a race without his form breaking down. He's a smooth runner, and attributes this to his focus.
"Everybody is working hard here," he said. "The runners who are good in training sometimes do not perform well in competitions. The big thing is you have to give focus for your work.
"For example, with me, I don't think about any other work. I give everything to sport. All of my thoughts are for sport. Also, when it comes to races, sometimes others get scared. But I don't get scared. If I run good, I thank god then I accept and do work, and if I don't win, I see myself weaknesses and I don't get angry. I say, because I work hard, I win, but still, it's not enough. I think that I can do more than this."
(© Guillaume Laurent / ATHLE.ch)

Despite being a fierce competitor, Barega is known as a humble, soft-mannered and gentle companion to most of his compatriots and family members. After getting some success and moving to Addis Ababa, he bought a car and a house, and asked two of his brothers, one cousin and a sister to move in with him.
His younger brother is now starting to train seriously and the others take care of the house. His sister makes a special type of kocho – a thick and dark flat bread made with the aforementioned enset plant – to eat with his favorite kitfo – minced raw beef – which fuels his training. Even though he financially supports his family, he sees them as caretakers to provide him necessary sustenance and morale.
In the future, Barega has big plans for how he would like to give back to the Gurage people, who he sees as having a lot of potential but lacking infrastructure and materials. "There is one club there, but they don't even have a track," he said. "Up until now I have not really supported them financially, only giving them morale. But if I can do something more for that area in the future like giving them clothes and facility, I will be happy."
But for now, Barega remains singularly focused on his training, with lofty goals about winning more medals for Ethiopia. He is currently coached by Hussein Shibo, who has helped bring athletes like Derartu Tulu, Haile Gebrselassie, Fatuma Roba, Kenenisa Bekele, and others, to global prominence. Within Ethiopia, Shibo is known as a "hunter," because he's a fierce recruiter of both talent and medals. He's known for adapting to athletes' training strengths and styles, rather than the other way around.
He remains focused on the 5000m and 10,000m races, with an eye looking to the roads for the future. But the 5000m and 10,000m, he has explained, are central to the culture of running in Ethiopia. And winning races are his central concerns. But for Barega, what remains crystal clear is no matter which event he runs, he will work extremely, exceptionally, hard.
Hannah Borenstein for World Athletics