Tobi Amusan wins the 100m hurdles at the Commonwealth Games in Birmingham (© Getty Images)
World champion Tobi Amusan and world indoor champion Jereem Richards had a successful Sunday (7) on the final day of athletics action at the Commonwealth Games, as they joined Elaine Thompson-Herah and Jacob Kiplimo as double gold medallists in Birmingham.
The Nigerian sprint hurdler started the day by winning her specialist discipline, the 100m hurdles, in a Games record of 12.30 (-0.2m/s) – the second-fastest wind-legal clocking of her career behind the world record of 12.12 she clocked at the World Athletics Championships Oregon22.
She won by a clear margin from Devynne Charlton of The Bahamas (12.58) and England's Cindy Sember (12.59), all of whom finished inside the previous Games record.
"I think my first five hurdles were rusty but then I got it together," said Amusan. "I'm just thankful for the win."
Later in the morning session, Amusan ran the lead-off leg for Nigeria in the 4x100m. She gave her team a strong start and handed over to 200m silver medallist Favour Ofili, who kept Nigeria level with England's Imani Lansiquot. Rosemary Chukwuma than ran a storming third leg to give Nigeria a clear lead, then Grace Nwokocha anchored them to victory in 42.10, taking 0.12 off the African record they had set when finishing fourth at the recent World Championships.
England finished second in 42.41 and Jamaica, anchored by double sprint champion Elaine Thompson-Herah, took bronze in 43.08.
Much to the delight of the home crowd, England took victory in the men's 4x100m just moments before the women's race. They won in 38.35 from Trinidad & Tobago (38.70) and Nigeria (38.81).
Later in the day, Commonwealth 200m champion Jereem Richards added another gold medal to his collection, anchoring Trinidad & Tobago to victory in the men's 4x400m. The world indoor 400m champion teamed up with Dwight St Hillaire, Asa Guevara and Machel Cedenio to win in 3:01.29 with Botswana finishing second in 3:01.85. Kenya placed third in 3:02.41.
The women's race was much closer with hosts England crossing the line in first place 0.01 ahead of Canada. But England was later disqualified for a lane infringement, giving Canada gold in 3:25.84 ahead of Jamaica (3:26.93). Scotland took the bronze medal.
Brume, Nadeem and Williams break Games records
Eight years after winning Commonwealth gold as an 18-year-old – her first senior international medal – Nigeria's Ese Brume regained her title in style, breaking the Games record in the process.
Ghana's Deborah Acquah took an early lead with 6.94m, breaking her own national record, but Brume responded in the second round to take the lead with 6.99m, breaking the Games record. The world silver medallist remained in the lead, but Australia's Brooke Buschkuehl came close with 6.92m in round three and 6.95m in round five.
Brume, as consistent in her series as she is at major championships, matched her leading jump of 6.99m in round four, followed it with 6.96m in round five and then – her victory by now guaranteed – wrapped up her competition with a Games record of 7.00m in round six.
The men's javelin was similarly competitive and thrilling, as it too resulted in the Games record being broken.
Pakistan's Arshad Nadeem set the tone with his opening effort of 86.81m. Two-time world champion Anderson Peters started with 82.30m while 2015 world champion Julius Yego threw 85.70m – a mark that would remain his best of the day.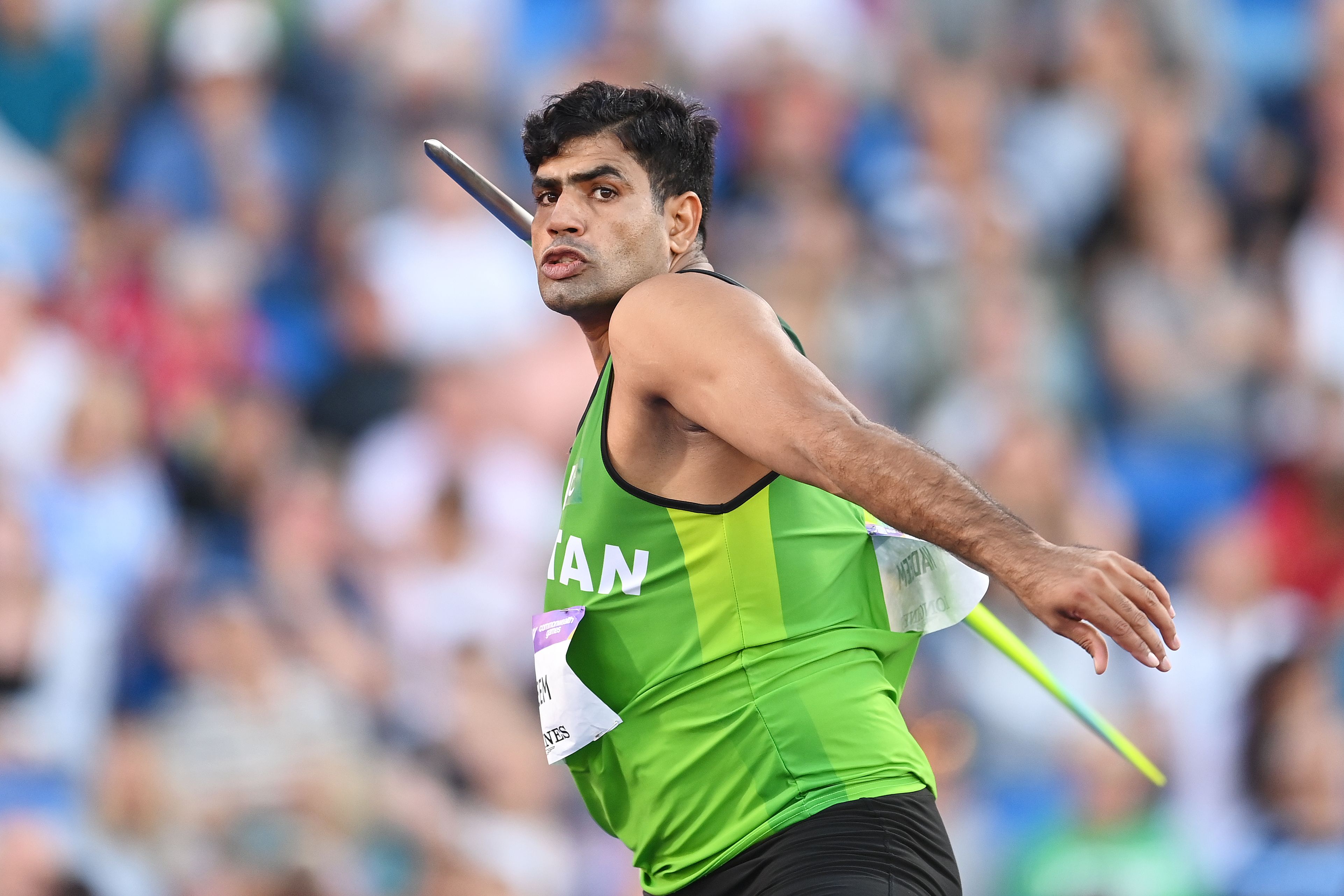 Arshad Nadeem in the javelin at the Commonwealth Games (© Getty Images)

Nadeem, however, was just getting started and he sent his spear out to 88.00m in round three, breaking his own national record. Peters responded in the fifth round with 88.64m to take the lead, but he stayed in that position for just a matter of minutes as Nadeem hit back with a Games record of 90.18m in round five. Peters was unable to throw farther with his final throw, meaning Nadeem earned Pakistan's first Commonwealth Games title in athletics for 60 years.
Peters' fellow two-time world javelin champion Kelsey-Lee Barber fared slightly better earlier in the day as she struck gold in her final, joining Amusan as the only two world champions to win individual gold in Birmingham.
But, like in Oregon, the Australian was made to work for victory. Teammate Mackenzie Little led from the first round, setting a PB of 64.03m. Barber opened with a solid 63.52m but continued to trail her compatriot. Little increased her lead with a 64.27m PB in round five, but Barber kept her composure and unleashed a best of 64.43m with her final throw of the competition, just as she had done when winning world gold in 2019 and Olympic silver in 2021.
Sada Williams of Barbados also broke a Games record on Sunday. The world bronze medallist kicked hard with 200 metres to go and could not be caught, winning in 49.90 – just 0.15 shy of the national record she set in Oregon. England's Victoria Ohuruogu, younger sister of 2008 Olympic champion Christine, took silver in a PB of 50.72 while Olympic finalist Jodie Williams clocked 51.26 for bronze.
Zambian teenager Muzala Samukonga produced an equally stunning second half to take a surprise gold medal in the men's 400m, beating world bronze medallist Matt Hudson-Smith. Samukonga was in fifth place with 150 metres to go, but closed rapidly on Hudson-Smith, Kenya's Boniface Mweresa and Jonathan Jones of Barbados and overtook them in the closing stages to win in 44.66.
His winning time broke the Zambian record that had stood to Samuel Matete since 1991. Matete was also the last Zambian athlete to win a Commonwealth title, winning the 400m hurdles in 1994.
Olympic 50km race walk bronze medallist Evan Dunfee stepped down in distance to win the men's 10,000m race walk. A lead pack of five formed after the first few kilometres and India's Sandeep Kumar led the group through half way in 19:23.53. Soon after, Australia's Declan Tingay made a break and opened up a gap of five seconds on Dunfee with the rest of the lead pack trailing further back. But Dunfee clawed back the deficit and kicked hard on the final lap to win in 38:36.37, breaking his own Canadian record. Tingay held on for silver in 38:42.33 and Kumar earned bronze in 38:49.21.
African champion Beatrice Chebet also timed her kick well to win the women's 5000m. The world silver medallist from Kenya let 10,000m champion Eilish McColgan do most of the leading as the Scot passed through 3000m in 8:53.24. Chebet's teammate Selah Busienei also formed part of the lead trio for much of the race, but once Chebet started to kick with 200 metres remaining, the 22-year-old was away and gone, winning in a season's best of 14:38.21. McColgan held on to take silver in 14:42.14 and Busienei took bronze in 14:48.24.
Like Scottish teammate McColgan, Laura Muir picked up her second medal of the Games in winning the 1500m. The world and Olympic medallist, who had finished third over 800m just 24 hours prior, dictated the pace in the second half of the race and kicked away to win in 4:02.75. Ciara Mageean, representing Northern Ireland, took silver in a season's best of 4:04.14 with Australian champion Abbey Caldwell earning bronze in 4:04.79.
Jon Mulkeen for World Athletics