Faith Kipyegon wins the Olympic 1500m title in Tokyo (© AFP / Getty Images)
It didn't matter where you looked on the penultimate night of competition at the Olympic Stadium, history was being made.
Jamaican sprint queen Elaine Thompson-Herah won her fifth Olympic gold medal, leading Jamaica to victory in the 4x100m relay, Italy won the men's 4x100m relay in a photo finish, and Allyson Felix became the most decorated female track and field athlete at the Olympics by winning her 10th medal in the 400m.
Faith Kipyegon and Shaunae Miller-Uibo became dual Olympic champions, and world record-holder Joshua Cheptegei broke through to win his first Olympic title in the 5000m as did Liu Shiying in the javelin.
Three years after giving birth to her daughter, Kipyegon ran the fastest women's 1500m ever seen in the Olympic arena to retain the title she first won in Rio five years ago.
They were an eventful five years as Kipyegon followed that Olympic title with a world title in 2017 before stepping away from the sport to have her first child. She returned to training just eight months before the World Championships in Doha in 2019, yet still managed to set a personal best as she finished second to Sifan Hassan.
With two more years of training behind her, Kipyegon had clearly found an extra gear leading into the Olympic Games. She defeated Hassan convincingly in her last race before Tokyo, the Wanda Diamond League meeting in Monaco last month, and repeated that feat in Tokyo.
Olympic 5000m champion Hassan, with two 5000m races and two 1500m races already in her legs, made the brave decision to take the lead after just 300m and try to blunt Kipyegon's superior finishing speed.
Hassan led the race for 1000m, but Kipyegon was perched on her shoulder the whole way, just waiting to strike, which she did with lethal effect with 250 metres to go.
The 27-year-old Kenyan, who trains with Eliud Kipchoge in Patrick Sang's camp, gapped Hassan in moments and sprinted away to claim victory in an Olympic record of 3:53.11.
"It was a really fast race," she said. "I knew it would be going until the last lap. They are all strong. But I am so happy to have set the Olympic record."
Britain's Laura Muir, for so long a contender who could not quite find a place on the podium at outdoor global championships, broke through to earn the silver medal in a national record of 3:54.50, after passing the tiring Hassan with 150 metres to go.
Hassan's quest to win an unprecedented distance treble over 1500m, 5000m and 10,000m ended with the bronze medal in this race (3:55.86) but she may yet become a dual gold medallist in tomorrow night's 10,000m final.
Cheptegei came to Tokyo with hopes of claiming the 5000m-10,000m double but was thwarted in the 10,000m final, when 21-year-old Ethiopian Selemon Barega outsprinted him to claim the gold medal.
However, the 24-year-old Ugandan got it right in the 5000m final to claim his first Olympic gold medal in 12:58.15, just shy of Kenenisa Bekele's Olympic record.



Cheptegei and his younger teammate, world half marathon champion Jacob Kiplimo, shared the pace through the first half of the race to make sure the race did not slow to the point that those inclined to sit and kick were brought into medal contention.
The pace quickened over the last two laps and USA's Paul Chelimo almost fell when he was pushed at the 600m mark before regaining his balance.
Cheptegei took command at the bell and began a long surge for the finish line, daring the other contenders to take him on.
But none of them could stay with him on that final lap and he crossed the line to win by two metres from Canada's Mo Ahmed (12:58.61) and Chelimo, who fell across the finish line to secure the bronze in 12:59.05.
On the medal podium, the charismatic Cheptegei beat his chest in celebration, but it was his heart that had carried him to victory.
"It's really a great moment," he said.
"I lost the 10k due to a small mistake and I regretted being a silver medallist. I came here to become an Olympic champion and my dream has been fulfilled today in a beautiful evening."
"This medal is really very special because it comes at a point that I was feeling that maybe I was fatigued and tired. But I had to tell myself, 'if there is a time for me to become an Olympic champion, it is this year because I am still in my prime age and you never know what can happen in the next three years before Paris'. I might not have the chance to defend the title, but this is really my special time to win the gold."
The Bahamas, with a population of fewer than 400,000 people, has now produced both the men's and women's 400m champions in Tokyo as Miller-Uibo reproduced the heroics of her compatriot Steven Gardiner to win her second consecutive Olympic title over the quarter-mile.
The multi-talented Miller-Uibo had initially decided to target the 200m in Tokyo, but the 400m field opened up leading into the Games and she switched her focus back to her original specialty.
It proved to be the right decision as Miller-Uibo dominated the 400m final to win in an area record of 48.36, the second fastest time ever run in the Olympic arena.
"I am so happy right now I could cry," she said. "I've been dealing with a whole lot of injuries and to be able to pull this one off is amazing."
Unheralded Dominican Marileidy Paulino came through to take the silver medal (49.20) with 35-year-old Felix (49.46) taking what will surely be one of the most celebrated bronze medals in history.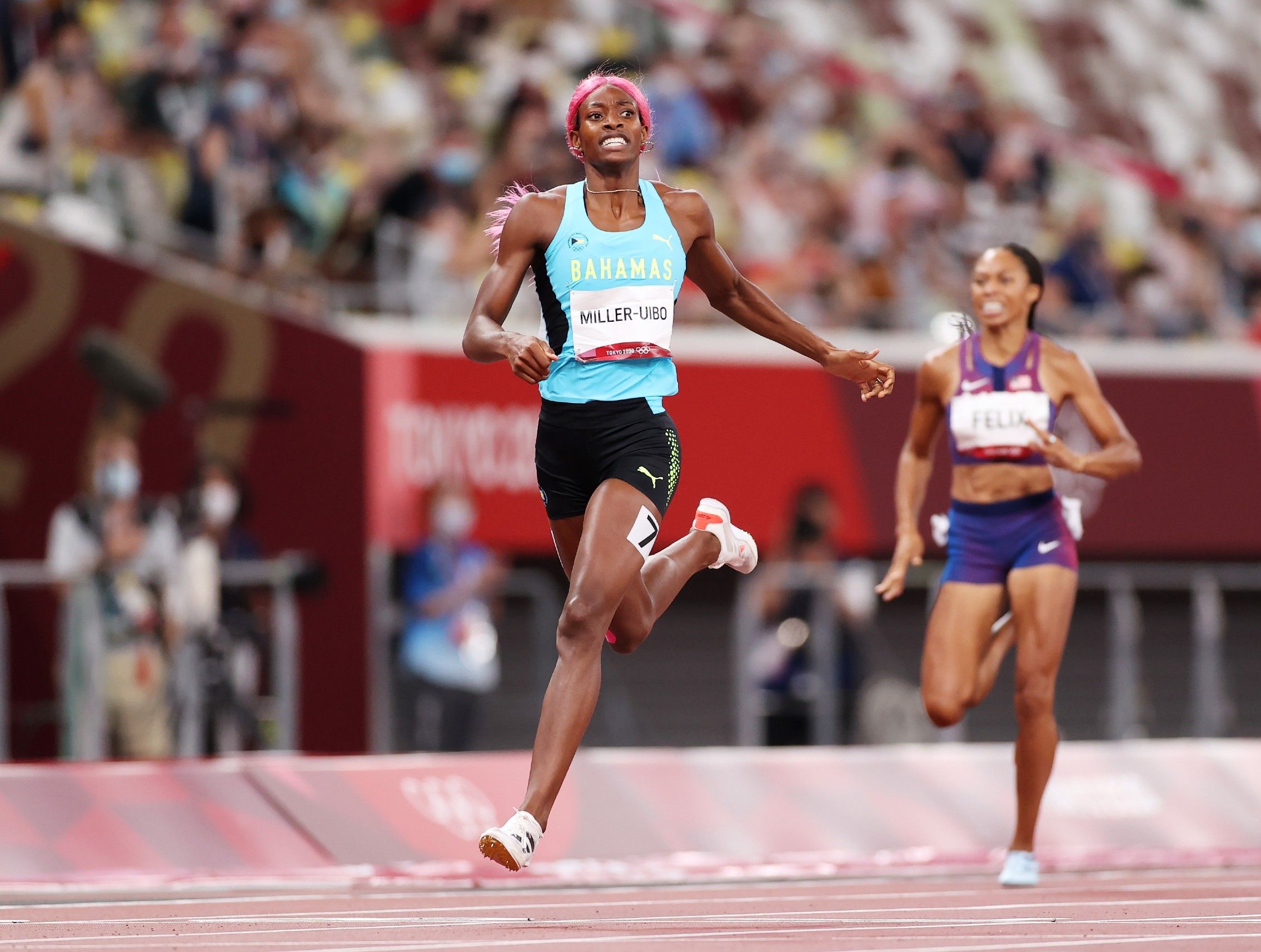 Liu took the javelin title with her very first throw, sending the spear out to 66.34m, a performance that no one could match in six attempts.
Poland's Maria Andrejczyk got closest on the second round (64.61m) while world champion Kelsey-Lee Barber made a valiant attempt to change the pecking order on the final round as she did to win the world title, summoning her best performance of the year to secure the bronze (64.56m).
The Jamaican sprint quartet was the hottest of favourites to claim the 4x100m relay, after taking a medal sweep in the individual 100m and they duly delivered on Jamaican Independence Day.
The combination of Briana Williams, Thompson-Herah, Shelly-Ann Fraser-Pryce and Shericka Jackson clocked the third-fastest time in history (41.02) to defeat the USA (41.45) and Great Britain (41.88).
The Jamaicans had this title won early, but the Italian men waited until the last moment to snatch victory from the British team by 0.01, winning their first ever title in this event (37.50 national record).
Inspired and assisted by individual 100m winner Marcell Jacobs, the Italians again stepped up to win a record fifth gold medal in athletics at these Games. Canada took the bronze in 37.70. Japanese hopes of a medal where dashed when they misjudged their first changeover and did not exchange the baton within the designated zone.
The men's 4x100m triumph was Italy's second gold medal of the day, as Antonella Palmisano had claimed the 20km race walk title earlier in the afternoon.
She surged in the closing kilometres to shake off the challenge from Colombia's Sandra Arenas and world record-holder Yang Jiayu, who was forced to spend time in the pit lane with a few laps to go.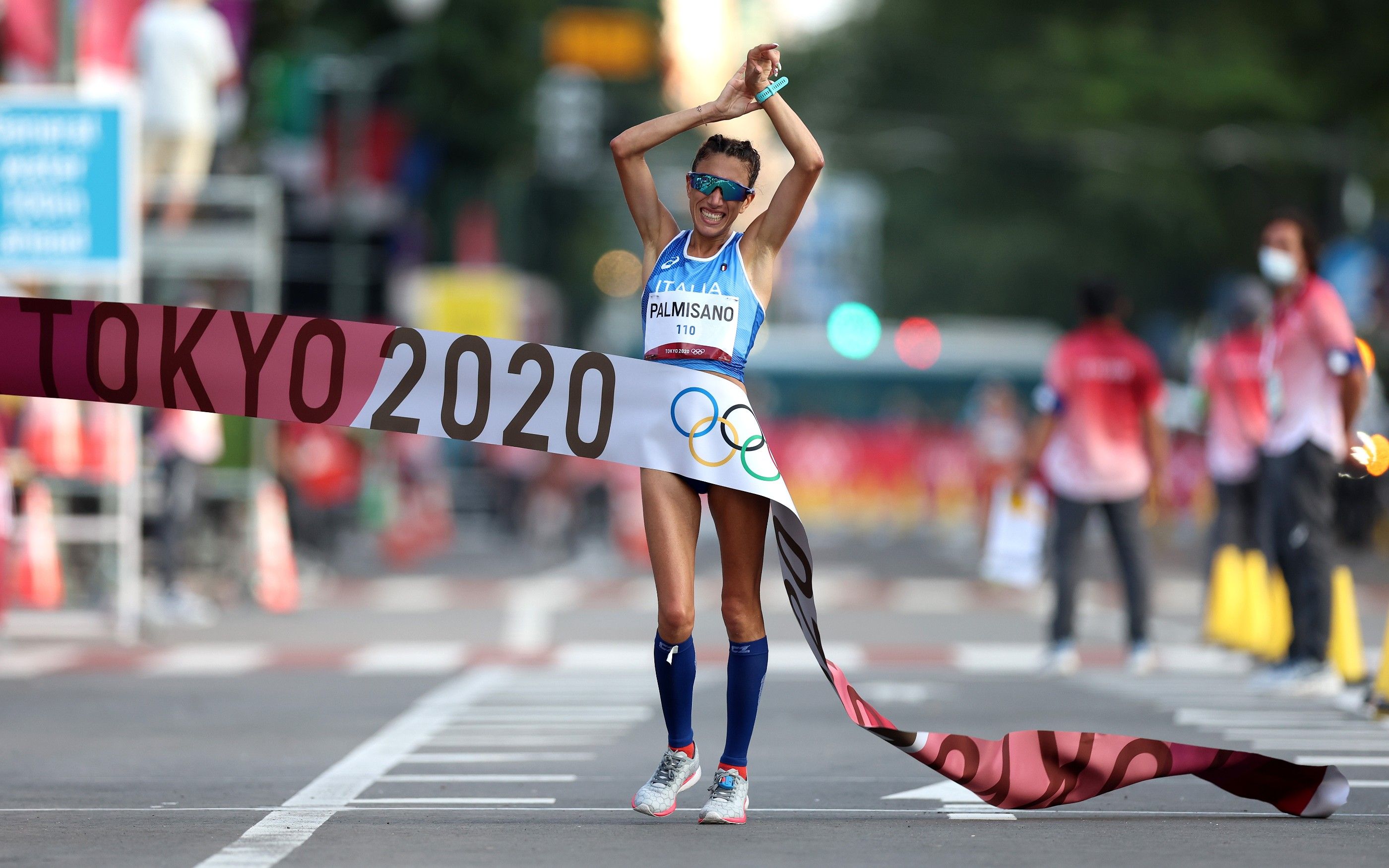 On a dramatic final circuit, Palmisano strode to victory in 1:29:12. Brazil's Erica de Sena, who so often misses out on global medals, looked to be closing in on Arenas to move into second place, but she was hit with a stint in the pit lane with less than half a lap to go. Arenas held on for silver in 1:29:37 while defending champion Liu Hong came through to take bronze in 1:29:57.
In the early hours of the morning, Dawid Tomala added to Poland's medal haul by winning the men's 50km race walk.
In what was just the third 50km race of his career – and the second one he has completed – Tomala clocked 3:50:08 to win by a comfortable 36-second margin. Germany's Jonathan Hilbert took silver in and world bronze medallist Evan Dunfee added another bronze to his collection, finishing third with a late-race surge in 3:50:59.
Nicole Jeffery for World Athletics