Patrick Dever wins the NCAA Championships 10,000m in Eugene (© Kirby Lee)
An exciting men's 10,000m saw 10 athletes finish inside the 42-year-old meeting record of 28:01.30, led by Tulsa's Patrick Dever who kicked to victory in 27:41.87, as NCAA Championships action got under way in Eugene, Oregon, on Wednesday (9).
Wesley Kiptoo had led a large group through half way before Alex Masai moved to the fore and pushed the pace. It was NCAA cross country champion Conner Mantz who put in a kick at the bell but he was joined off the final bend by Robert Brandt, Abdihamid Nur and Dever, who then found a gap on the inside. Passing the trio, he surged down the home straight to follow in the footsteps of his fellow Briton Marc Scott who had won the 2017 title, celebrating with his arms spread wide as he reached the finish line.


🚨 CHAMPIONSHIP RECORD! 🚨@TulsaTrack Patrick Dever breaks a 42-year-old #NCAATF meet record, winning the 10000m in 27:41.87! pic.twitter.com/wMpwGhiC2q

— NCAA Track & Field (@NCAATrackField) June 10, 2021

"There was a lot of moving around and a bit of jostling in the pack and it was just a case of keeping calm," said GB international Dever, speaking on the broadcast coverage. "I really wanted to save something for the home straight because I figured if it were to come down to that, I would need to be ready."
It was only his third ever track 10,000m following his debut in May, and he took 46 seconds off his previous best. He is also set to race the 5000m in Eugene on Friday.
Mantz was second in 27:42.46 and Nur third in 27:42.73. Dever's 19-year-old compatriot Charles Hicks joined those dipping under the old meeting record with a time of 27:47.63 in seventh place.
LSU's JuVaughn Harrison was also among the athletes in action on day one and the double NCAA indoor champion leapt 8.27m (1.9m/s) to win the long jump and will return to contest the high jump on Friday.
Branson Ellis won the pole vault with a 5.70m clearance, while Tzuriel Pedigo threw 76.98m to claim the javelin title. Indoor champion Turner Washington threw an outdoor PB of 21.10m to win the shot put and Thomas Mardal recorded 76.74m to lead the hammer results.
Rogers throws US collegiate record
California's Camryn Rogers was the dominant force in the women's hammer on Thursday (10), twice improving the US collegiate record to eventually win with a 75.52m PB.
The Canadian 22-year-old, who won the world U20 title in 2018, broke the meeting and collegiate records – both held by world medallist Maggie Ewen – with her very first throw of 74.97m. She fouled the next before 73.33m in round three, 72.25m in round four and 73.52m from her fifth throw before improving again to 75.52m in the final round. Shey Taiwo finished second with a PB of 71.27m.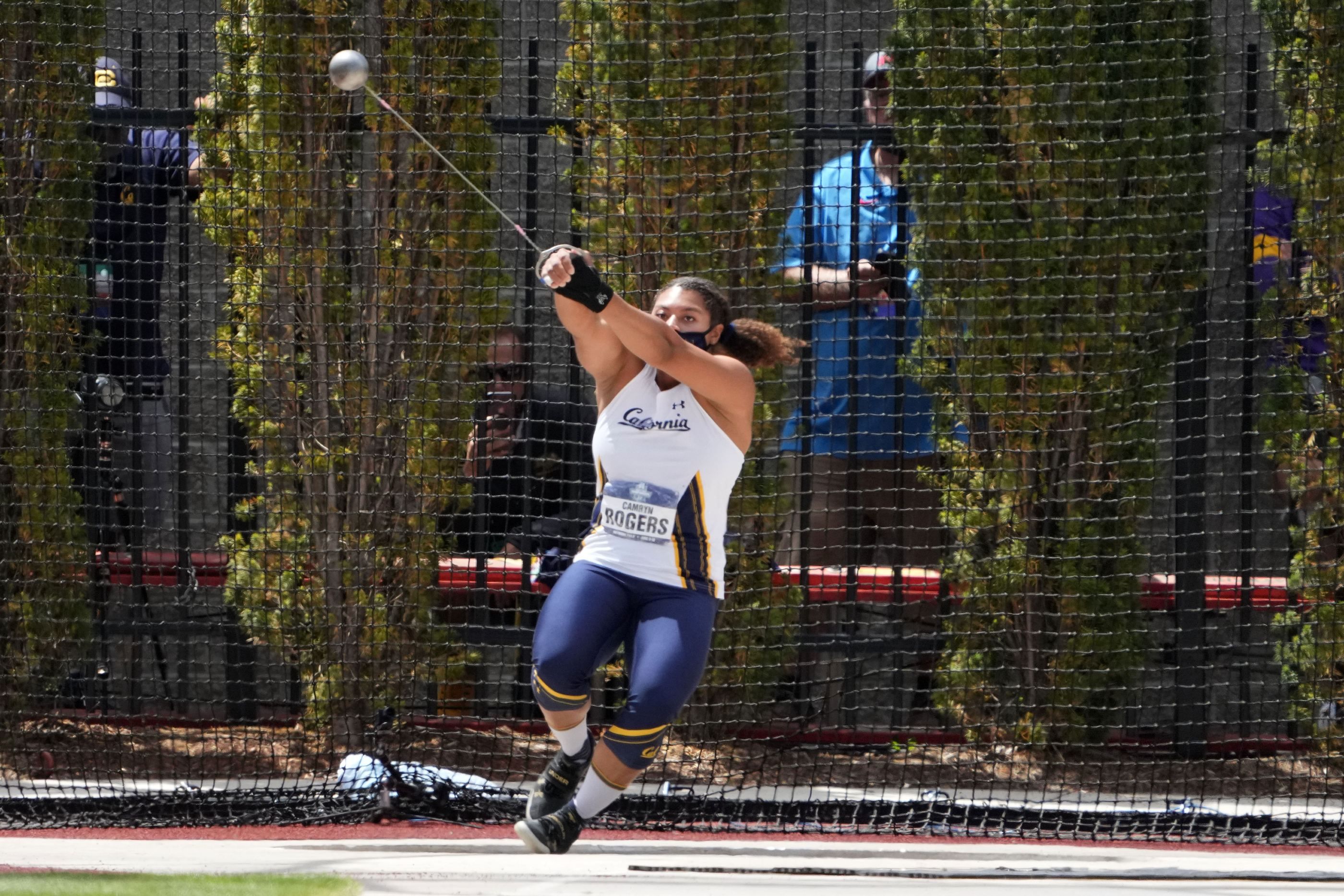 A close women's long jump competition was won by Texas' Tara Davis as she leapt 6.70m (1.0m/s) in the fifth round. Tyra Gittens responded with 6.68m (0.2m/s) in the final round – her best of the competition – to finish second, with Jasmine Moore third thanks to a fifth-round 6.65m (1.5m/s).
Adelaide Aquilla came close to 19 metres to win the shot put, throwing 18.98m in the final round, while Marie-Therese Obst's 59.69m secured her the javelin title. Lisa Gunnarsson cleared 4.40m to win the pole vault.
Oregon's Carmela Cardama Baez went one better than her runner-up finish in 2019, winning the 10,000m title in a PB of 32:16.13 ahead of Mercy Chelangat, who clocked 32:22.11.
Georgia's Karel Tilga scored 8261 points to win the decathlon, with his results including 7.51m (2.2m/s) in the long jump, an equal PB of 2.10m in the high jump and 63.11m in the javelin. Ayden Owens was second with 8114 points.
Among those qualifying for the weekend's finals was LSU's Tonea Marshall, who ran 12.48 (1.1m/s) to win her 100m hurdles semifinal.
Jess Whittington for World Athletics